COVID-19 Health Standards
We are committed to doing everything possible to keep the health and safety of our staff, vendors, shoppers and community while still providing essential access to fresh and nutritious foods.  Our team is working to assure we are always following best practices accordingly to the Center for Disease Control and Prevention (CDC), Arizona Department of Health Services (ADHS) and local health officials.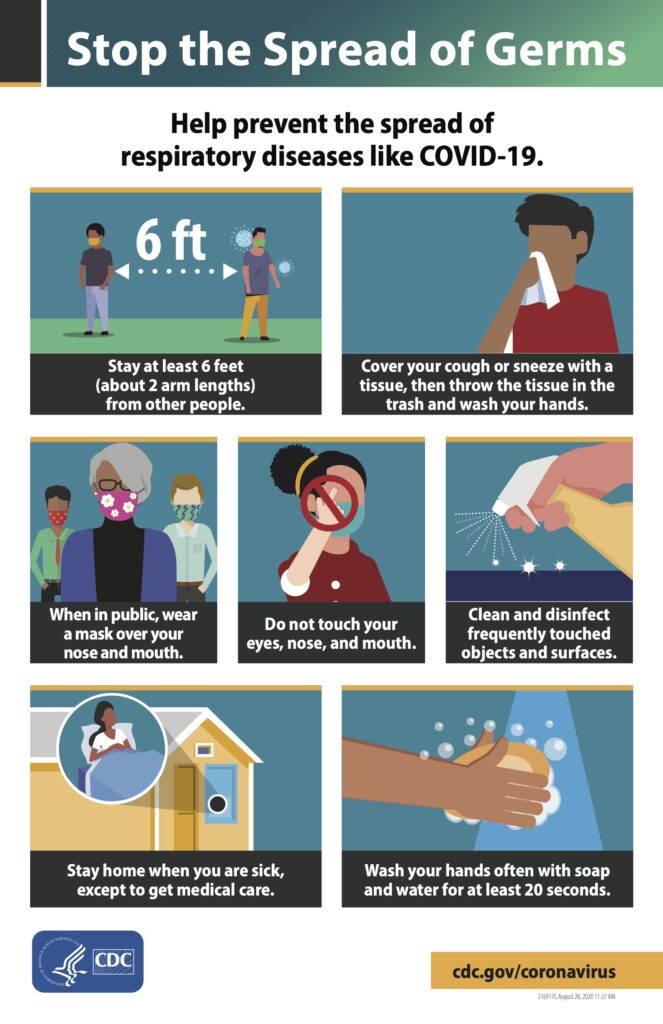 Stay informed and up-to-date on what is happening both around the world and here in our state. We suggest you do the same by reading reliable information from the Center for Disease Control, World Health Organization, and the Arizona Department of Health Services.
Market Rules
Vendors and market staff shall adhere to CDC recommendations for outdoor farmers markets in addition to the state and local health regulations put into place.
Sanitizer stations are set up throughout the market in addition to the sanitizer each vendor has at their booth.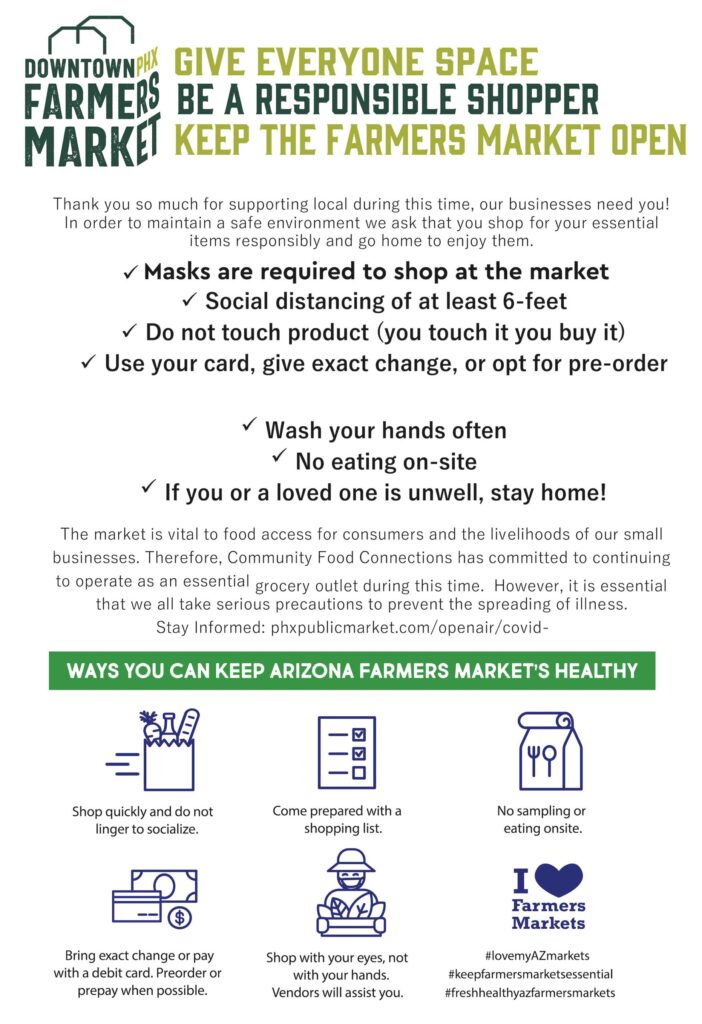 Preparing Online Orders
Our team is committed to providing access to the food and products the community needs during this unprecedented time. However, we take the health and safety of our staff, vendors, and customers very seriously. In addition to the steps we have taken at our outdoor farmers market, when processing online orders we are following these guidelines.
✓ Our staff is required to wear protective masks and gloves when working.
✓ We continue to enhance our daily sanitation practices; sanitizing our hands and routinely disinfecting our workspace, including cleaning commonly touched surfaces according to CDC recommendations.
✓ Only one market staff member processes orders at a time, to allow for proper social distancing.
✓ Orders are processed in a certified commercial kitchen and stored in the proper setting to ensure maximum freshness including refrigeration.
Good Practice For Washing Produce
See additional FDA recommendations here.
1. Wash your hands for 20 seconds with warm water and soap before and after preparing fresh produce.
2. If damage or bruising occurs before eating or handling, cut away the damaged or bruised areas before preparing or eating.
3. Rinse produce BEFORE you peel it, so dirt and bacteria aren't transferred from the knife onto the fruit or vegetable.
4. Gently rub produce while holding under plain running water. There's no need to use soap or a produce wash.
5. Use a clean vegetable brush to scrub firm produce, such as melons and cucumbers.
6. Dry produce with a clean cloth or paper towel to further reduce bacteria that may be present.
7. Remove the outermost leaves of a head of lettuce or cabbage.