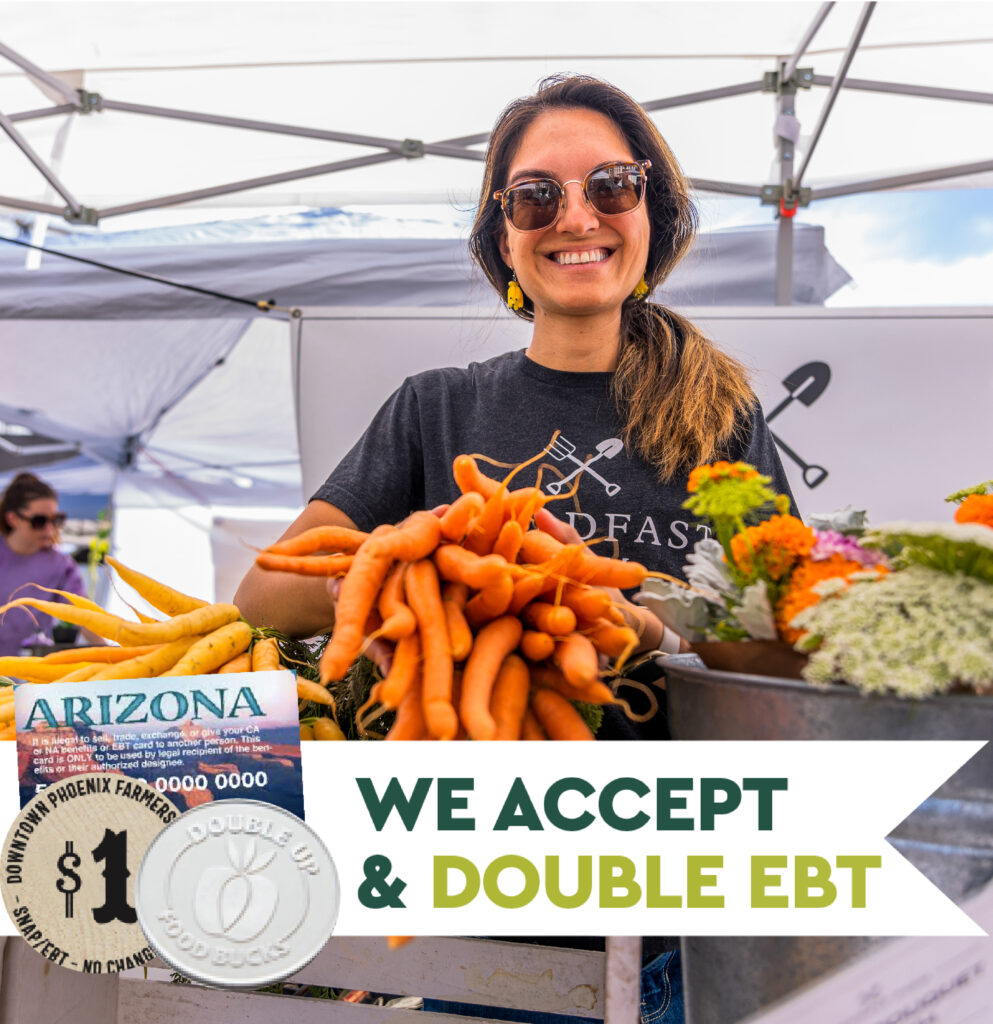 Double Up Food Bucks
Those enrolled in SNAP can have their funds doubled at the farmers market.
In 2021, we ran 1,300 EBT transactions and matched $49,000 in SNAP benefits. $38,000 in matched DUFB benefits was spent with vendors at our market. Roughly 250 reported being new customers!
WE ARE CURRENTLY OFFERING UNLIMITED DUFB MATCHING – Thanks to our wonderful partners at Pinnacle Prevention, DUFB doubles the value of SNAP/EBT (including P-EBT) benefits used at farmers markets across Arizona.
DUFB helps individuals stretch food dollars and bring home more healthy fruits and vegetables while supporting local farmers. For every $1 of SNAP funds redeemed at the market, a matching $1 token in Double Up Food Bucks is provided to purchase additional fruits and vegetables from local farmers.
How To Use DUFB At The Market
1. Visit the info booth on the northwestern corner of the farmers market on Saturdays.
2. Decide how much to spend at the market and present your EBT card to the market staff.
3. We will swipe your card and give you $1 Wooden EBT Tokens to spend at the market.
4. We will also match dollar-for-dollar what you spend in $1 Silver Double Up tokens.
5. Use $1 Wooden EBT Tokens at any stand that sells any groceries.
6. Use $1 Silver Double Up Tokens at any Arizona-grown produce.
7. No change can be given, but our vendors will be happy to help you shop.
8. You can save your tokens and spend them on other days. They never expire!
9. Tokens can be spent at any qualifying market.
We can accept EBT cards from any US state. No change is given for coins by vendors. 

Double Up Food Bucks (silver token) sales MAY NOT include: Food that was not grown in Arizona (even though it may be "local" in some areas), honey, jam, juice, cider, pickled products containing salt, etc., eggs, meats, seafood, grains/baked goods.
The Benefits of SNAP/DUFB
Double Up sales help EVERYONE:
They help farmers market managers get more shoppers to the market,
They help farmers get more money for their products,
They help shoppers shift their budget and add more purchasing power, making it more likely for them to spend their SNAP tokens on food items such as meat, eggs, bread, dairy, pickles, frozen foods, etc.,
They help non-food vendors and artisans expose their products to more customers, and
They help people buy more local, nutritious food for themselves and their families.
SNAP funds help people buy groceries, and when farmers markets accept SNAP and Double Up as currency, more money stays with local businesses such as yourself. It frees up cash for families' other non-food expenses, such as medical care, clothing, home repairs, and childcare needed for when they go to work. This benefits local businesses and their employees, which boosts the economy as a whole.
Resources
Ready to apply for SNAP? Call 1-855-432-7587 or visit www.healthearizonaplus.gov
DES Office Locator: https://des.az.gov/find-your-local-office
USDA SNAP eligibility FAQs: https://www.fns.usda.gov/snap/recipient/eligibility 
SNAP application tips video: https://vimeo.com/509640654
SNAP pre-screening tool through Arizona Self-Help: https://www.arizonaselfhelp.org/prescreen/
Check on application status and manage benefits: https://myfamilybenefits.azdes.gov/authorization/login.aspx