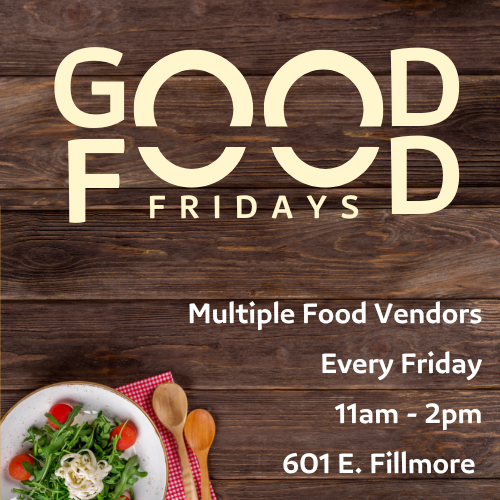 Become a Food Vendor at Good Food Friday!
Good Food Friday is bringing quick and delicious lunchtime meal options to Downtown Phoenix residents and the Phoenix Bioscience Core community! The Friday lunch event spotlights three to five food trucks or food vendors that will be offering lunch-time meal options for residents in the area, as well as students and employees from the UofA Biosciences building, ASU Biosciences building, t-Gen building, Dignity Health Cancer Center, Bioscience High School, APS, and more. Hungry patrons will congregate every Friday to pick up locally made lunches. Food vendors will be rotated to keep lunch options diverse and exciting.
Details
When: Every Friday from 11:00 AM to 2:00 PM, beginning August 19, 2022
Where: 601 E. Fillmore (parking available at 555 E. Fillmore)
Who: Food trucks and food vendors that can dish up ready-to-eat prepared lunches on the go
What: Good Food Friday showcases a diverse offering of prepared lunches from 3 to 5 vendors every Friday. Preference will be given to vendors who package sustainably and show knowledge of dietary restrictions/choices.
Cost: $75 per vendor per week payable in advance
Vendor Requirements:
Vendors must arrive at the location and be set up at least 30 minutes in advance. Must be ready for service by 11:00 AM.
If a vendor runs out of food prior to 2:00 PM, they can pack up but may not leave.
All vendors MUST have the appropriate licenses through Maricopa County Health Dept.
All vendors MUST have general liability insurance for at least $1,000,000.