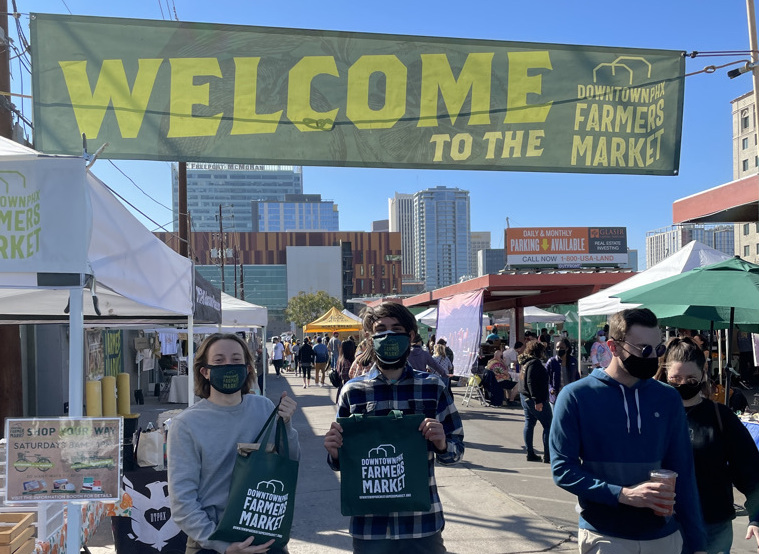 Volunteer With Us
A dedicated group of engaged and enthusiastic volunteers is key to our market's success. Volunteers help with market operations, support our public education efforts, and add to the spirit of the community. Saturdays at the farmers market are dynamic and take a lot of work to get up and running!
Volunteering at a market gets you outside and is a great way to get to know your community, including the people who grow your food.
Volunteer Info
Volunteer shifts are typically 4-hours on Saturdays, ranging from 7-1 pm.
Volunteers will work indoors and outdoors helping with different tasks at the Market. The information below will give you an idea of the volunteer opportunities at the markets and beyond. Masks are required if you're working indoors. Masks are still encouraged when working outdoors.
Community: This is a great position if you like to interact with people. Example tasks may include working at the information booth, engaging with customers, and running EBT/SNAP transactions.
Sustainability: This is a great position if you are passionate to build sustainability in the community. Example tasks may include assisting customers at our sorting stations, gardening, neighborhood clean-ups, and may include some heavy lifting.
Behind-the-scenes: This is a great position if you like to stay busy helping accomplish projects. Example tasks may include creating care packages, sorting coins, trash-pickup, and placing signage.
Volunteers must be at least 15 years old to volunteer alone, volunteers as young as 13 may help with a parent. High school students needing to fulfill volunteer quotas are welcome.