Growing resilience.
Community Food Connections is proud to support Downtown Phoenix Farmers Market merchants through two unique funding opportunities – small business scholarships and farm grants. CFC believes that providing small, manageable grants can have a big impact on building a resilient local food system.  We place a very high value on our vendor community and are committed to helping our merchants experience great success.
Small Business Scholarships

Congratulations to our 2020 Small Business Scholarship recipients: b Naked Chocolates, Fluffy Vegans, and Pachamama. We are proud to award direct financial support to market vendors as they adapt to the new retail climate.
B Naked Chocolates: With a passion for health and fitness, owner Sue Berliner understands the importance of how food can affect your overall health. With this in mind, she sets out to create clean chocolates, treats, and snacks with whole foods and short ingredients for consumers to enjoy. She is working to share the message that snacks, and sweets can be made healthy. Scholarship funds will be used to directly share this message with signage to share with customers.
Fluffy Vegans: Fluffy Vegans is a family run business that has been with the market for four years. They work to bring plant-based foods to the community, with vegan cheezes and snacks. Their goal is to grow into a brick and mortar location, allowing them to offer a zero-waste marketplace for the community. They will use the scholarship funds to help purchase banners and signage for their booth at the market.
Pachamama: Pachamama has been with the market for just under a year. In that time customers have gotten to know Chef Kevin and his family not only at his booth but through the market cooking demonstrations. With new market health and safety restrictions in place, Pachamama had to rework its business model to adapt to a new market. Instead of selling hot prepared food on Saturdays, they have taken on prepackaging food for customers to enjoy at home.
Al Zoubani Sweets: Basmh Al Zoubani arrived with her husband and children from Syria in 2015 with the support of The IRC, loves to share her culture through food. ⁠Basmh started the market one year ago, sharing a booth with others. She's grown her baked goods and is now in her own booth! One day she dreams to have her own bakery shop. She purchased a new banner, tent and table to get launched into her own market booth for the first time!
Farm Grants
Our work is focused on preserving Arizona's rural livelihoods and farmland.  Farm Grants provide funding to local farms for on-farm projects that have positive impacts on Arizona food systems, agricultural diversity, and the environment. We believe that providing small, manageable grants can have a big impact on the local food system.
2020 Grant Recipients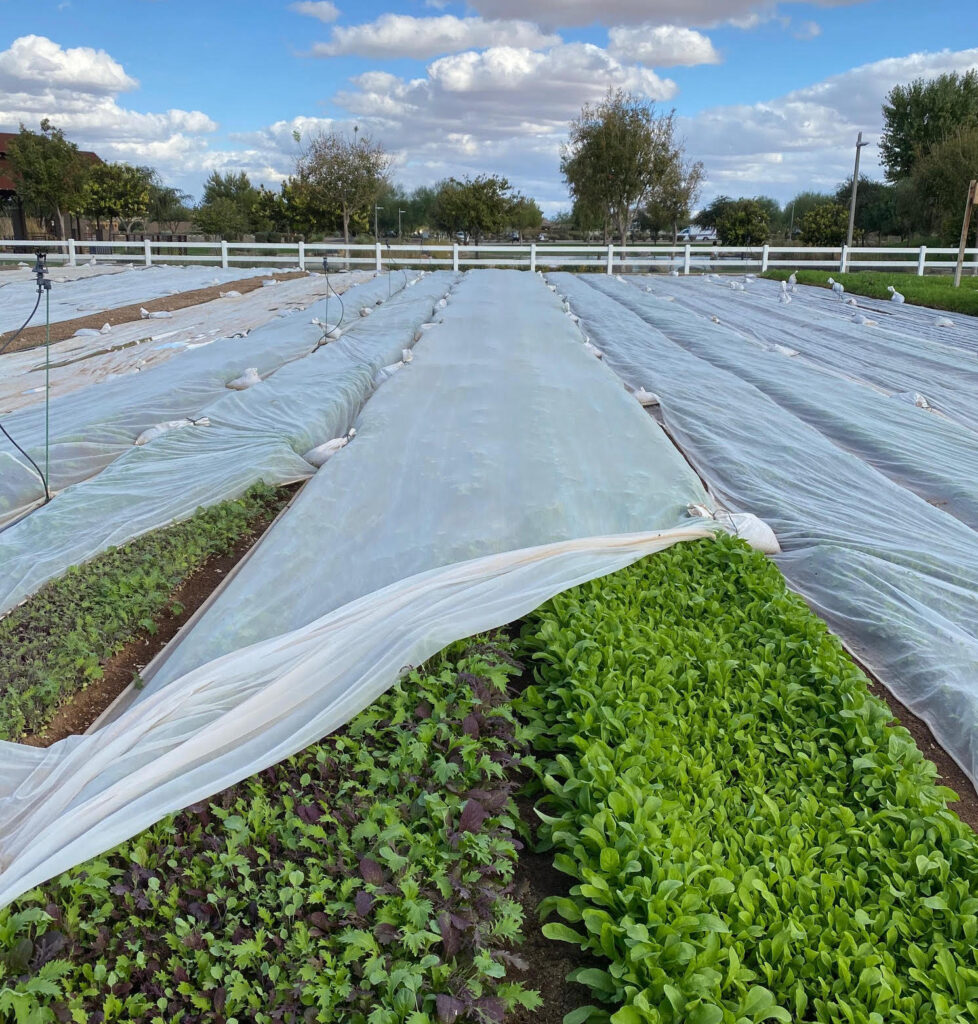 Steadfast Farm – Farmer Erich Schultz runs a two-acre bio-intensive market farm in Mesa, Arizona. On this land, he grows fruits, vegetables, and flowers using organic practices and raises pastured poultry for fresh eggs. Steadfast Farm utilized its grant for specialized insect netting that protects its specialized greens. Netting is an alternative to using harsh pesticides and is a more sustainable farming practice.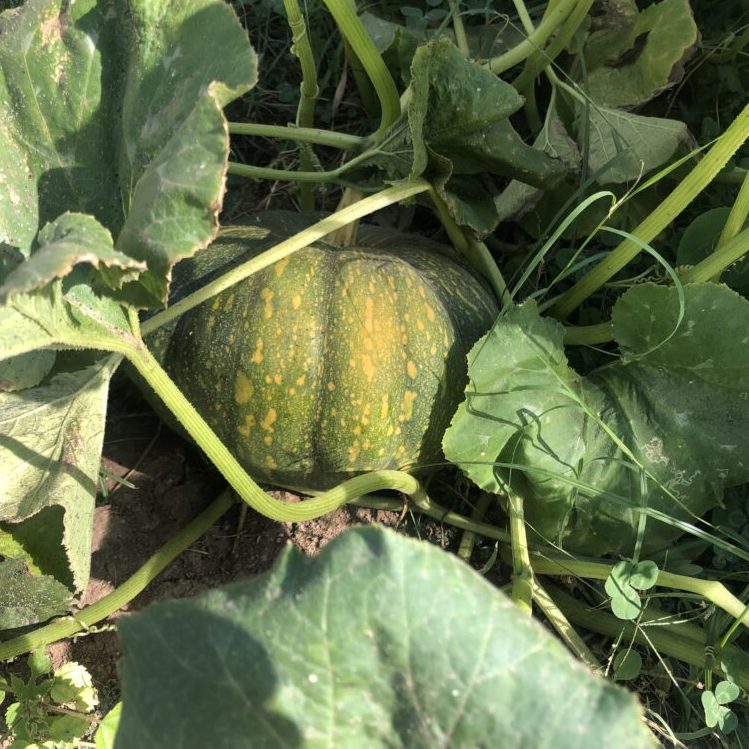 Hadley Farmship – Farmer Charly got into farming in 2008 when after 30 years as a mason he found himself out of a job. He decided to take a chance to pursue an interest in growing organic food. He and his wife purchased a half-acre urban property and started Hadley Farmship.  Being in the urban center, he depends on city water and has taken it upon himself to ensure the neighborhood's irrigation system is maintained.  He is utilizing his grant funds to build a better irrigation system on his property to reduce water use.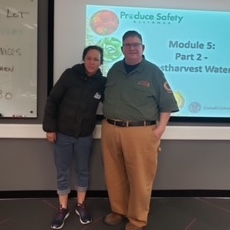 Horny Toad Farm Horny Toad Farm is a female-owned, family farm three miles away from the market.  Farmer Stella believes in bringing nutritious healthy food to people.  She utilized her grant to take a farm and food safety training and is building new infrastructure on her property including new garden beds.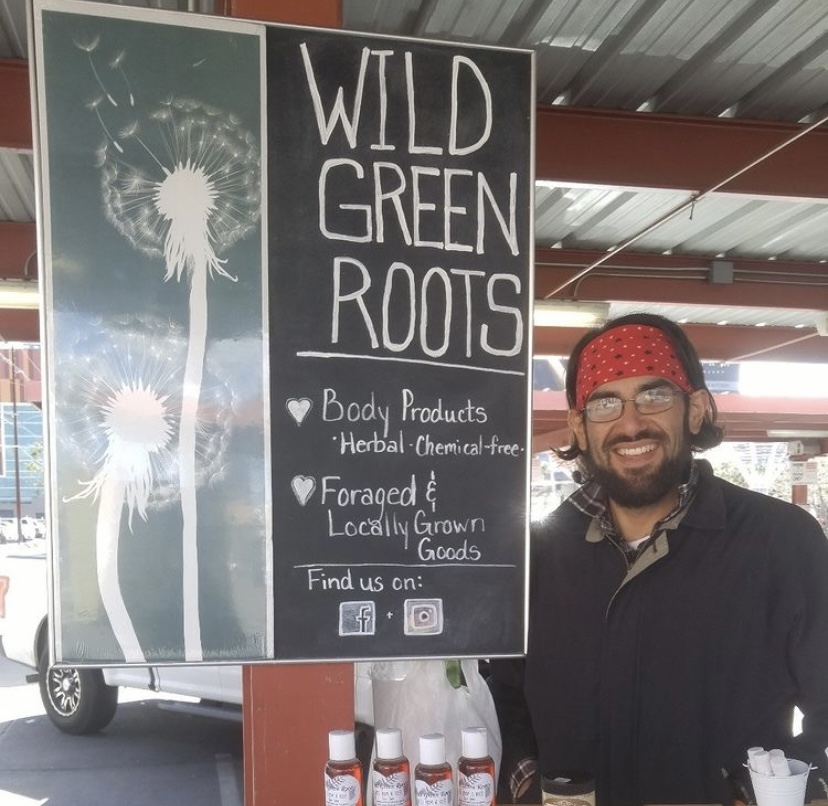 Wild Green Roots Ashley is a forager, collecting wild and unused herbs, fruits, and vegetables.  She launched Wild Green Roots with a drive to help empower people to better their lives and to let them know they can start right where they're at. It's about going back to your roots, the basics. She started selling her goods at the Community Exchange Table. Now, Wild Green Roots has utilized their grant funding to build its presence in the marketplace, purchasing the necessary equipment and signage to develop its business.
Our 2019 Recipient: The first Small Farm Fund recipient was to Farmer Hussein Al Hamka.  In 2007, Hussein Al Hamka and his family abandoned their 75-acre farm in Iraq. After spending two years in a refugee camp in Syria they resettled in Phoenix in 2009 with the help of the International Rescue Committee. Farmer Hussein grows his produce on land in both South Phoenix and in the West Valley. He's known for his specialty varieties of vegetables including his famous cucumbers and melons. Farmer Hussein works with new refugee families, resettling through IRC, teaching them his knowledge of how to farm in Phoenix.
Dedicate your dollars directly to these programs!
Our work is not over, we're continuing to keep Arizona growing food. Despite these difficult times, we have seen incredible resiliency and innovative state-wide collaborations as we battle challenges within our local food system.
We're building a more robust network of resources for our farms to help them meet growing demands. As more people face new economic realities, the farmers market is striving to enhance access and provide essential resources and support to our local businesses. 
DONATE TODAY!