Becoming a Merchant - More Information
Vendor Selection: We currently review applications seasonally. Your application will be reviewed by a Vendor Selection Jury that will ensure that your products meet the criteria listed above. If selected, you will be asked to provide all necessary permits/insurance information, as well as a signed Market Agreement and your annual fee. All vendors must have the proper documentation on file prior to beginning as a vendor.
Location: The market lot on the southeast corner of McKinley Street and Central Avenue; 721 N.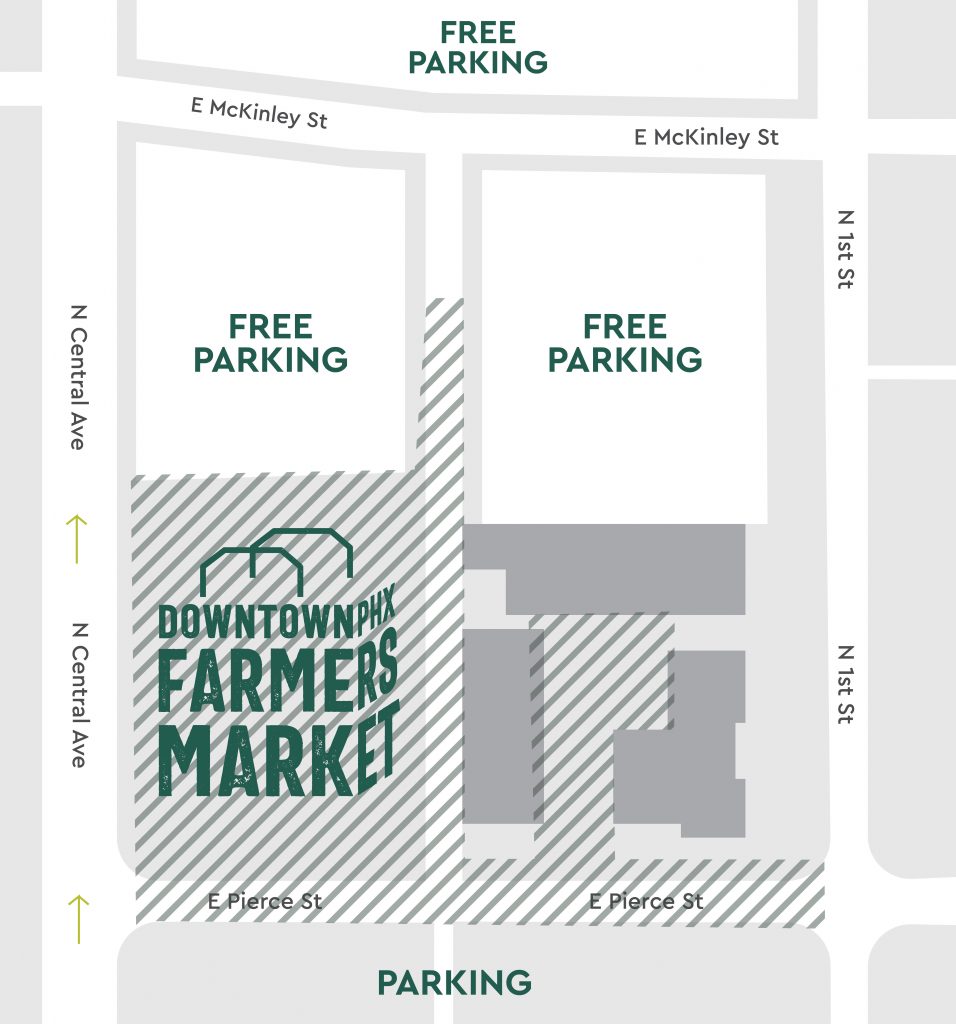 Central, 2 blocks south of Roosevelt.
Set-up: Our Market runs year-round outdoors in the 0pen air. Our market has a limited amount of tents and tables available for a rental fee. Vendors should be able to furnish their own tents and tables. All businesses are expected to set up and break down all of their own equipment and we ask that you leave your space cleaner than when you arrived.
Days and Times:
Year-round, rain or shine
Saturdays, October – May, 8 am – 1 pm
Saturdays, May – September, 7 am – 11 am
PLEASE BE PATIENT: At this time we are reviewing applications seasonally so please be patient while we get back to you. Artisans and other non-food vendors, please note that we are currently at capacity. We do keep a waitlist of inquiring vendors to review if and when space opens. Waitlists do not guarantee a vendor space at the market, however, it does ensure inquiring vendors do not need to reapply.
Thank you for your interest in the Downtown Phoenix Farmers Market.
Resources:
We recommend that all vendors carry some sort of small business insurance. More information on why we require insurance and what to consider when looking for general liability insurance can be found at the Farmers Market Legal Toolkit
Transaction Privilege Tax (TPT) License
https://azdor.gov/transaction-privilege-tax/tpt-license
Environmental Services Department
https://esd.maricopa.gov/4996/Permits-Forms-and-Applications
Cottage Food Program
https://www.azdhs.gov/preparedness/epidemiology-disease-control/food-safety-environmental-services/cottage-food-program/index.php
Maricopa.gov Form Center
https://www.maricopa.gov/FormCenter/Environmental-Services-16/NEW-OWNERNEW-PERMIT-APPLICATION-FOR-A-PU-175