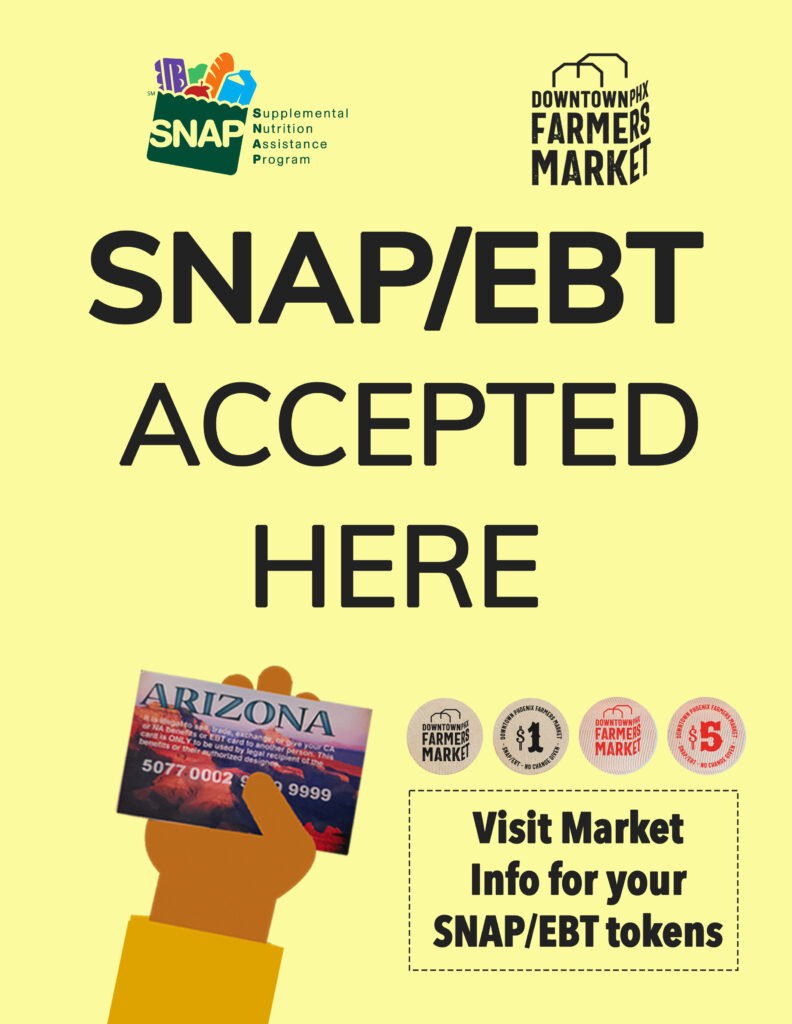 Did You Know We Accept SNAP?
SNAP stands for "Supplemental Nutrition Assistance Food Program."
In 2021, we ran 1,300 EBT transactions worth $49,000 in SNAP benefits, and $43,000 was spent with vendors at our market. Roughly 250 reported being new customers!
SNAP funds help people buy groceries, and when farmers markets accept SNAP and Double Up as currency, more money stays with local businesses and farmers. It frees up cash for families' other non-food expenses, such as medical care, clothing, home repairs, and childcare needed for when they go to work.
You get to choose where to shop and what to buy. Plus, you can double your SNAP funds at our market via the Double Up Food Bucks Program.
How To Use SNAP Benefits At The Market
1. Visit the info booth on the northwestern corner of the farmers market on Saturdays.
2. Decide how much to spend at the market and present your EBT card to the market staff.
3. We will swipe your card and give you $1 Wooden EBT Tokens to spend at the market.
4. We will also match dollar-for-dollar what you spend in $1 Silver Double Up tokens.
5. Use $1 Wooden EBT Tokens at any stand that sells any groceries.
6. Use $1 Silver Double Up Tokens at any Arizona-grown produce.
7. No change can be given, but our vendors will be happy to help you shop.
8. You can save your tokens and spend them on other days. They never expire!
9. Downtown Phoenix Farmers Market tokens can only be spent at our market.
We can accept EBT cards from any US state. No change is given for coins from vendors. 

SNAP/EBT sales shall NOT include: Food that is hot at the point of sale, food that is to be consumed immediately, any type of alcoholic beverage or tobacco product, vitamins, medicine, pet food, non-food items, or any item that is not a food/food product intended for human consumption.
Pandemic EBT
We also accept Pandemic EBT (P-EBT), which provides assistance to households with children who are eligible for free or reduced-price school meals while schools are either closed or offering a full-time or part-time distance learning model due to the COVID-19 pandemic. Summer benefits will be arriving soon! P-EBT works the same as SNAP, follow the steps above! If you're already enrolled in SNAP, the benefits will already be added to your existing EBT card.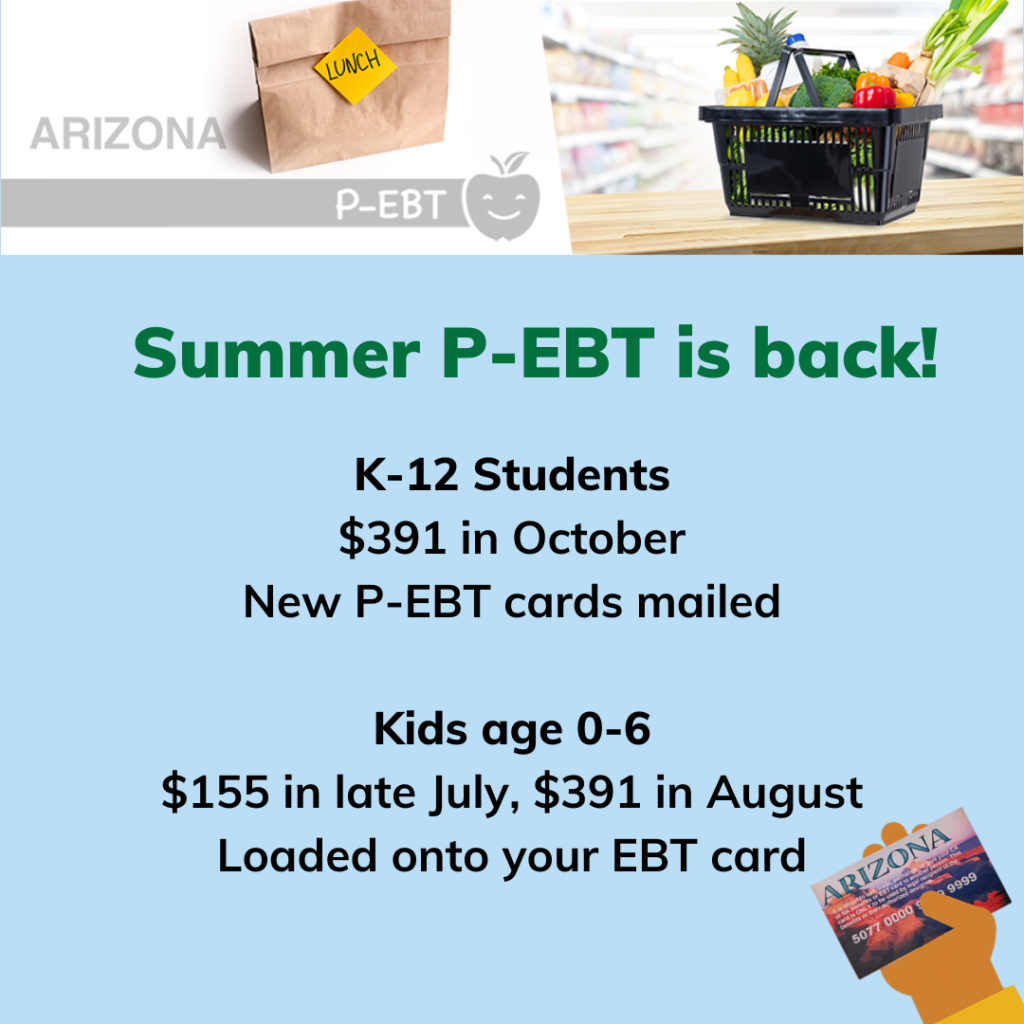 Arizona P-EBT Benefits program is a partnership between DES, the Arizona Department of Education, and the USDA Food and Nutrition Service. Find more info here.
SNAP Impacts
The facts about SNAP benefits can be surprising to many. The truth is, nearly half of all SNAP households (47%) have children. 80% of SNAP families in Arizona had at least one working member in the past 12 months. Across Arizona, SNAP helps more than 1 in 5 households in rural areas, almost 1 in 4 households in small towns, and 1 in 8 households in metro areas afford food to feed their families. County-level data is available at www.des.az.gov/
SNAP:

Helps families purchase food.
Reduces poverty.
Helps to stabilize the economy.
Generates $1.70 in economic activity.
SNAP Eligibility