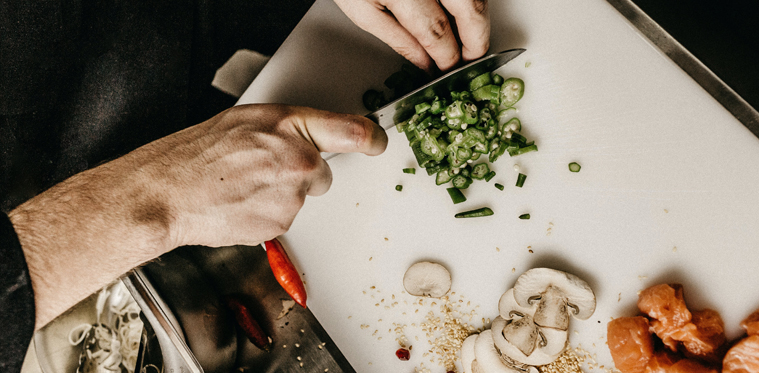 Enjoy Our Local Recipes
We've gathered our favorite recipes inspired by our delicious market finds. Discover simple and fresh recipes, cooking how-tos, seasonal produce, market shopping lists, and videos with local chefs.
What's in season: Apples, Arugula, Basil, Black-eyed peas, Chiles, Corn, Cucumbers, Figs, Green beans, Herbs, Okra, Pears, Potatoes, Pumpkins, Shelling Beans, Squash (summer), Squash (winter), Sweet Peppers, Tomatoes, Zucchini, Zucchini Blossoms
Throwback to Labor Day 2017 Burger Contest Winner! KimSlaw Black Garlic Burgers Created by: Ric Carrillo + John P Kraft Featuring RA Seasoning Spices and The Proper Beast Sausages Read […]
Read More
With an abundance of peppers and squash available this time of year, we'd like to share a recipe produced by Beatriz Garcia. She was kind enough to share her stuffed […]
Read More
Roasted Eggplant Ingredients: Eggplant – cut in half then cut crosshatching cuts about ¾ inch deep Olive Oil – 1 ½ Tablespoon Sea Salt – ½ Teaspoon Garlic – 1 […]
Read More
This year make your own gifts for friends and family. Homemade prickly pear jam paired with fresh market bread is the perfect hostess gift this season. ⁠
Read More
We're missing our weekly workshops but thought we'd share this Prickly Pear Potato Salad from our Harvesting Nopal Workshop & Demonstration with Monika Woolsey, Hip Veggies, don't miss trying some […]
Read More
Spaghetti Squash is a great way to introduce more vegetables into your diet. This vegetable is full of calcium, iron, vitamin B and potassium making it a good choice for […]
Read More
Charly Calbom from Hadley Farmship cultivates a variety of heat resistant crops on his half-acre urban farm in Southwestern Phoenix. Some are native to the Sonoran Desert, while others are […]
Read More
Melanie Albert of Experience Nutrition makes it easy to create farm-to-table recipes. Try out her recipe for beet burgers. Using ingredients from the Market, she walks you step by step […]
Read More
Mulberry season is here! Mulberries can usually be found sold at local farmers markets. They have a sweet exotic flavor that can be eaten raw or used to make unique […]
Read More