Sweet Potato and Sweet Corn Tacos
As someone who tries to eat strictly plant-based, I am always playing around with different types of veggie tacos in the kitchen. Because of the abundance of corn and potatoes at the market lately, I decided to try out roasted sweet potato tacos with a simple corn salsa. Potatoes are a great ingredient to use in the kitchen because they are locally grown year round and are very affordable. They are also quite versatile- for this dish I tossed them in some jalapeño olive oil, chili powder, and paprika to give them a fajita taste, and it was super delicious. Let me show you how I made them!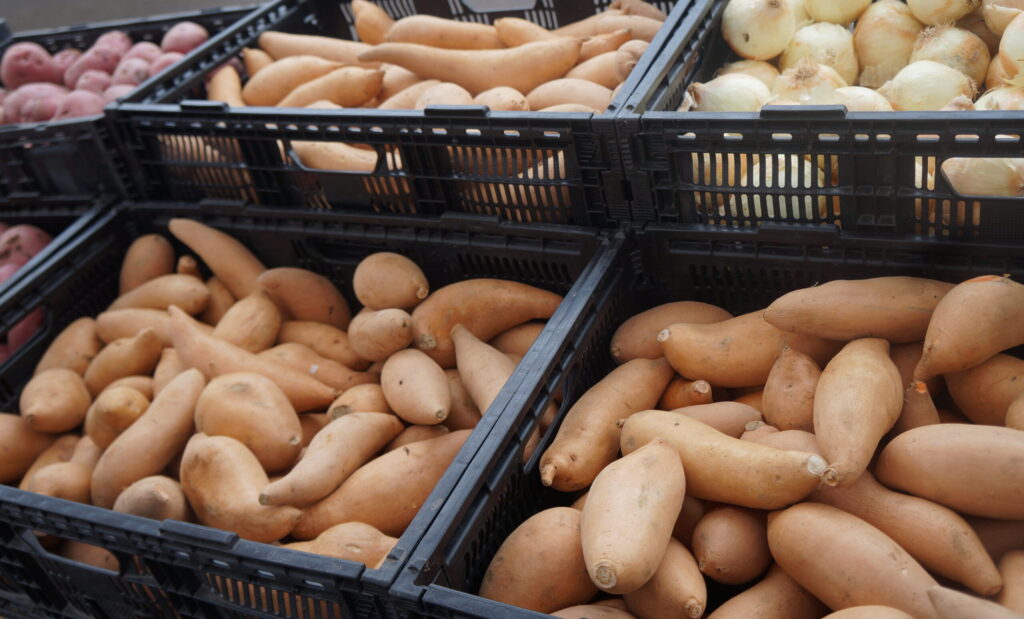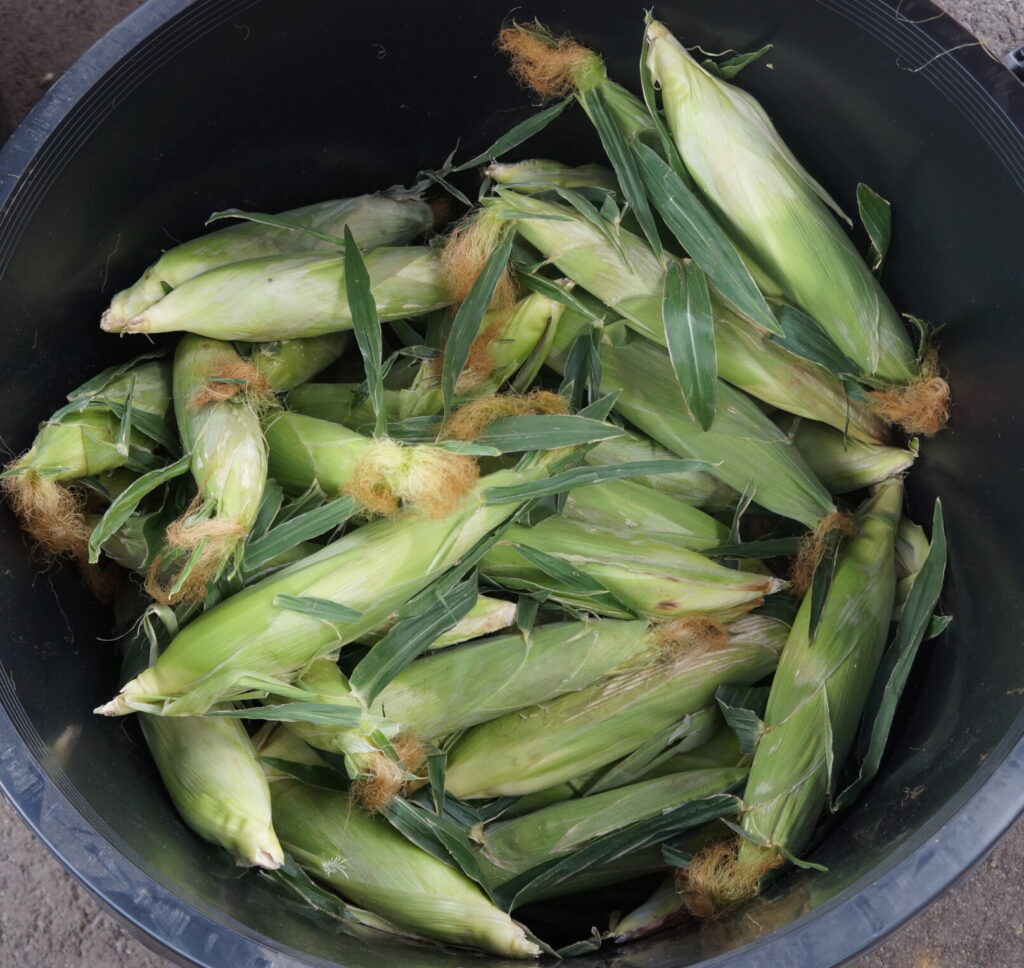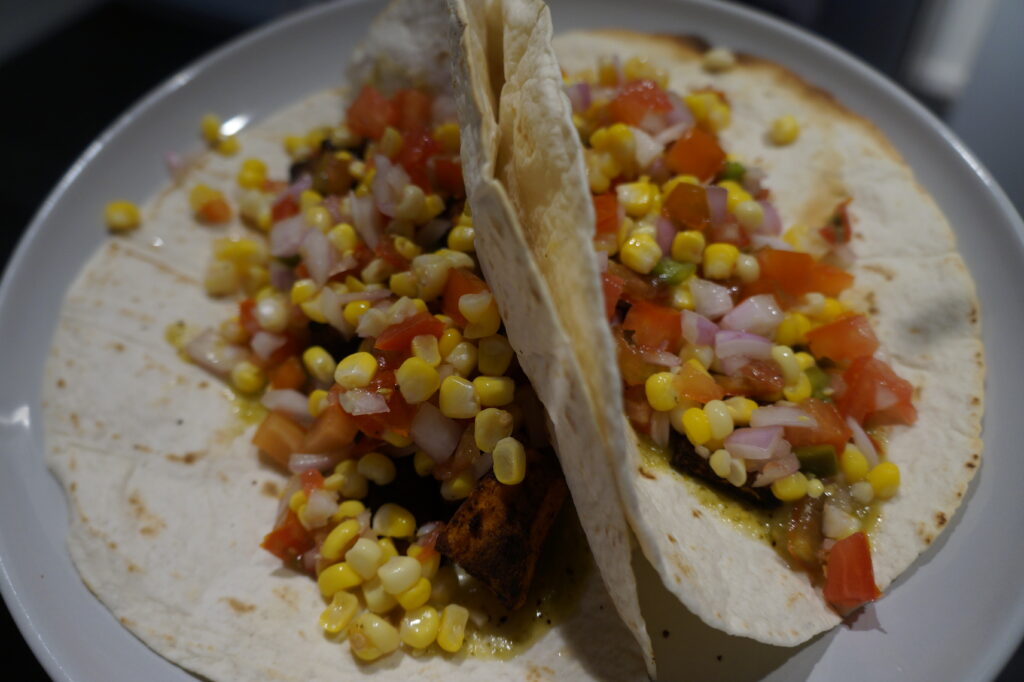 fresh produce from local farmers
Crooked Sky Farms:
sweet potatoes: I chose to use sweet potatoes for this dish but I am sure that with the same seasonings, the tacos would be just as delicious with other potatoes like red or yellow. Crooked Sky Farms always has multiple potato options!
heirloom tomatoes: the tomatoes are perfect at the market right now, so of course I grabbed some to add to the corn salsa
Golo Family Farms:
sweet corn: the corn from the Golo's was so fresh and really became the star of the dish. Corn is another great ingredient to add to your dishes this summer since it is quite a cheap and delicious way to add some veggies to your meal!
Blue Sky Farms:
red and sweet field onions
Duncan Family Farms
el jefe jalapeños: these jalapeños from Duncan Family Farms had the perfect flavor and spice to add to the corn salsa for the tacos! They always have interesting and unique produce to purchase at the market- go check them out next time your shopping!
Horny Toad Farms:
ingredients
roasted sweet potatoes:
1 medium/large sweet potato
2 small sweet onions
1/2 tablespoon olive oil (I used jalapeno infused, but its not necessary)
1/2 teaspoon chili powder
1/2 teaspoon paprika
1/2 teaspoon garlic powder
salt and pepper
simple sweet corn salsa:
I ear of corn, removed from the cob
2 medium sized tomatoes
1 small red onion
2 small jalapeños
juice of one lime
1/2 teaspoon chili powder
1/2 teaspoon garlic powder
salt and pepper to taste
other:
I used 2 flour tortillas for my tacos
I added some goat cheese on top from Crow's Dairy (can be purchased at Blue Sky Farms)
I added some of my homemade salsa verde– you can find the recipe for that by clicking the link
the process
roasted sweet potatoes:
begin by preheating the oven to 410 degrees F
peel the sweet potato

 dice the sweet potatoes into cubes (about 1 inch x 1 inch)

dice the sweet onion

toss the sweet potato and onions in the olive oil, chili powder, garlic powder, paprika, salt and pepper
place on a oven safe tray and bake for 30-35 minutes

begin to make the corn salsa
simple sweet corn salsa:
bring a medium pot of water to a boil for the sweet corn
remove the husk from the corn

add the corn to the boiling water for 10 minutes
begin preparing the rest of the salsa

dice the tomatoes, red onion, and jalapeno and add to a small mixing bowl (keep the seeds of the jalapeno in for more heat)

add the lime juice, salt, pepper, and mix

once the corn is done, let it cool for a few minutes and remove it from the cob with a knife and add it to the bowl

add the chili powder, garlic powder, and more salt and pepper if needed (at this step you could also add cilantro- but I couldn't find any at the market this weekend)
assembling the tacos:
I put my tortillas in the toaster oven for a few minutes to warm them up before adding the ingredients (this is optional)
I added a layer of my homemade salsa verde to the bottom of the tortillas- feel free to skip this step or add your favorite salsa/hot sauce

next, add the roasted potatoes to the tortillas

add a generous amount of the simple corn salsa on top

I enjoyed this dinner with a side of the salsa verde and added some of the Crow's Dairy goat cheese- simply delicious!  🙂
I decided to make this as a one meal recipe, but you could double or even triple the recipe and have some meals prepped for the next few days to save you some time! Both the sweet potatoes and simple salsa will stay good in the fridge and would be ready for a delicious and easy lunch or dinner! 🙂
I highly encourage you to try out these veggie tacos this summer while the corn and potatoes are so abundant and affordable. The mix of the sweet corn and sweet potatoes with the spicy salsa and peppers was delicious and a great way to get a healthy, veggie packed meal in.
Posted in Agriculture, All Recipes, Chef, Downtown Phoenix, Health & Wellness, Local, Loyal Local, Market Life, Recipe, Recipe Box, Summer, Sustainability, Taste of the Market, Vegan, Vendor Feature, Vendors, What's In Season