Sweet and Savory Summer Salad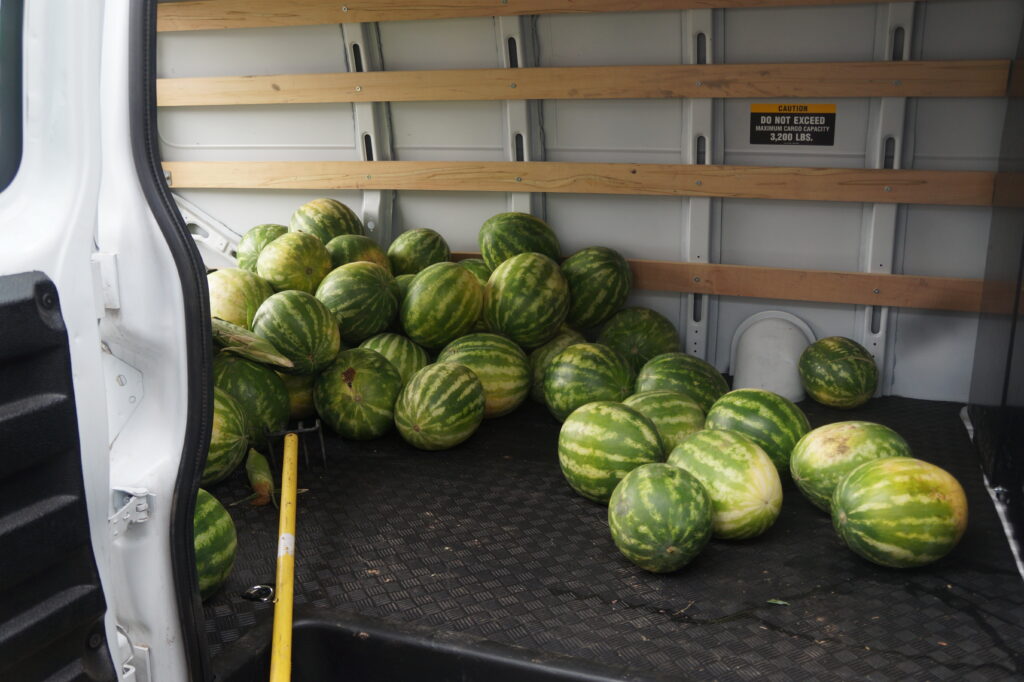 I love to see the amount of watermelon the farmers have been bringing the the market lately- melon season is here, and its as sweet as ever! As I was helping the Golo's unload their watermelon from the truck, I knew I had to take one home to cut up.
I decided to make a summer "fruit" salad to serve as a side dish for my friends fourth of July grill out, and let me tell you- it was quite the crowd pleaser. The salad combines summer flavors like watermelon, cucumber, mint and lime and gets topped off with flaky sea salt and feta cheese (optional) to create the most refreshing and delicious summer side dish!
Watermelon and cucumber are both in season right now and are very plentiful at the farmer's market. I grabbed my watermelon from the Golo's Farm, but many other vendors like Crooked Sky Farms, Blue Sky Farms, and Al Hamka Farms have been bringing all sorts of watermelon varieties to the market that I cannot wait to try! The watermelon and cucumber pack in lots of water and nutrients and are great foods to have throughout the day in this summer heat. I encourage you to make this salad for yourself or friends and family the next time you come to the market! 🙂
fresh produce from local farmers:
Golo Family Farm:
watermelon: the Golo Family have been so generous with their delicious and ripe watermelon the past few weeks. On the day they made their return back to the market, they showed their customer appreciation by giving out free watermelon to shoppers! Ever since cutting that first watermelon from them open, I have found myself leaving the market with one every week. They are so juicy and full of the sweetest natural sugars to energize your day. Watermelon is definitely a delicacy alone, but this week I wanted to try it out with a few other summer flavors. A big shoutout to the Golo's for providing Phoenix with all this sweet melon. 🙂
Al Hamka Farms:
Community Exchange Table:
apple mint: I love apple mint because it adds a great flavor to this salad and many other foods/drinks. The leaves themself are also packed with iron, potassium, calcium, vitamin A and C which replenish our body.
Horny Toad Farms
limes: I was so glad to see limes at Horny Toads Stand! She always has unique produce you cannot find at other vendors.
ingredients
1/2 large watermelon, cubed
1 large Armenian cucumber, diced
1/4 cup of apple mint, chopped
juice of two limes
tablespoon of flaky sea salt/Himalayan salt
1 cup of feta cheese (optional but recommended)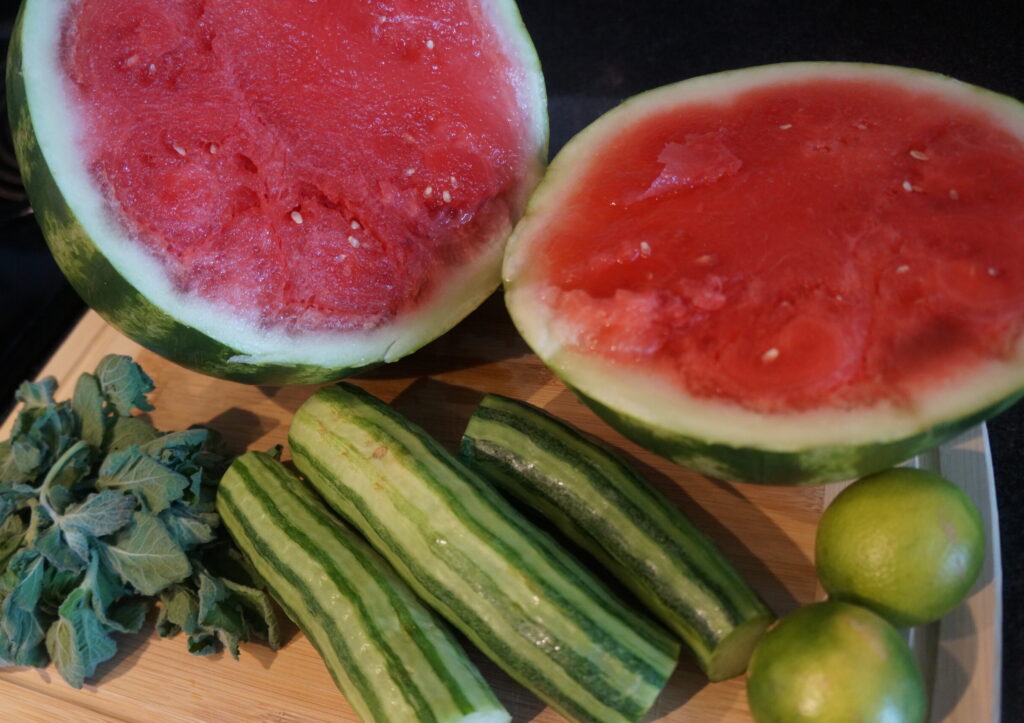 the quick and easy process
begin by cutting the watermelon into cubes and adding to a large mixing bowl- you can make them as big or small as you prefer
next, dice the cucumber and add to the bowl
finely chop the apple mint and add to the bowl
next, add the lime juice and salt to the bowl and combine all ingredients
if adding feta cheese, I recommend waiting until you serve the dish in order to keep it from getting to soggy

the feta adds a great flavor and texture to the salad and most importantly adds a source of protein to help keep you satisfied

serve as a side dish to any summer lunch or dinner! This salad is so refreshing, sweet, and savory, while also giving your body many good nutrients it craves 🙂 You can find all the farm fresh ingredients here at the Downtown Phoenix Farmers Market! Here are some pictures of my final product-
Posted in Agriculture, All Recipes, Chef, Downtown Phoenix, Gardening, Health & Wellness, Local, Loyal Local, Market Life, Recipe, Recipe Box, Summer, Sustainability, Taste of the Market, Uncategorized, Vegan, Vendor Feature, Vendors, What's In Season