Mini Butternut Squash Boats
I wanted to share the meal that I made with the baby butternut squash that Maya gave me from her farm. Take a look at my previous post- A Trip to Maya's Farm– where I talk about my experience visiting her land and talking with her about her farming practices. She gifted me a beautiful baby butternut squash and I was so excited to create a dish with it. I decided to make stuffed butternut squash boats with a mix of garlic, onion, quinoa, poblano pepper, and plant-based ground beef. The recipe turned out amazing and the savory flavors of the pepper and onion went really well with the sweetness of the squash. I decided to add some Crow's Dairy goat cheese from the market and served the remaining stuffing on the side to make it a complete vegetarian meal. After eating this, it will definitely be a staple in my kitchen for the rest of the summer and into the fall months! I have been seeing some small and large butternut squash begin to pop up at the market, so stop by some vendors (including Maya's Farm) this week and grab one to make this easy but delicious meal.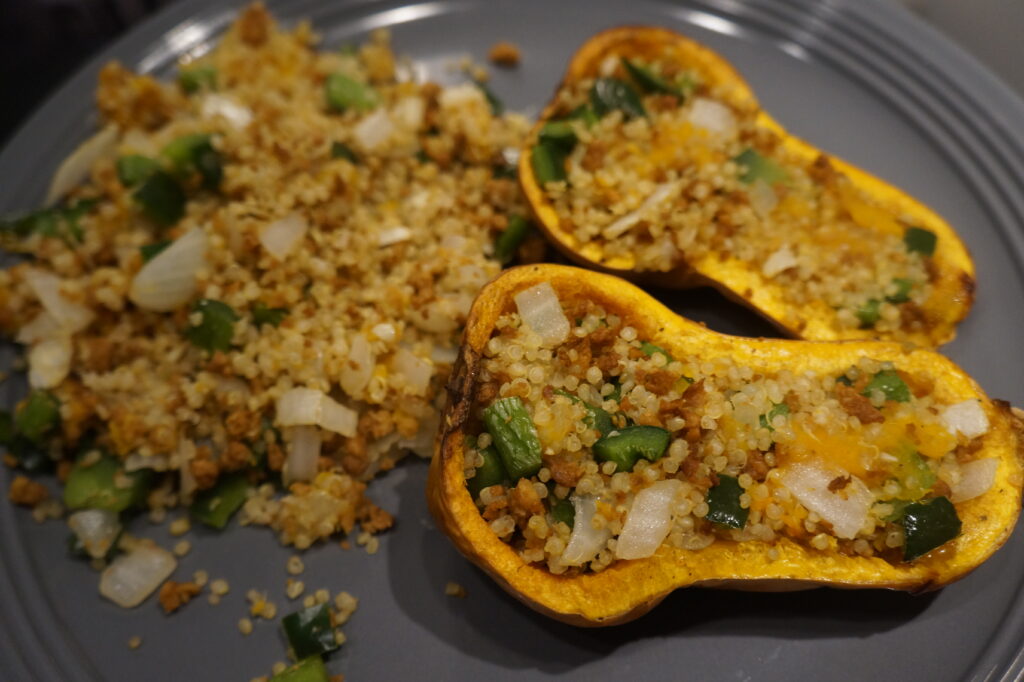 farm fresh produce from local farmers:
Maya's Farm: butternut squash
Cooking with this squash was such a special experience for me because I was able to see and harvest the crop for myself when I went to visit Maya's Farm. Reconnecting to our local farmers and food is extremely important, and in my opinion, the meal tasted even better because I knew the produce was locally and sustainably grown.
Golo Family Farm: poblano pepper (not hot, very sweet and fresh)
Al Hamka Farms: dry garlic
Blue Sky Farms: sweet onion
butternut squash boat ingredients
1 small butternut squash
2 tablespoons olive oil
salt and pepper
1/2 sweet onion, chopped
4 cloves garlic, minced
1 poblano pepper, chopped
3/4 cup cooked quinoa (can be subbed for any rice)
3/4 cup plant-based ground beef (optional, can also be subbed for any other protein)
the process
preheat the oven to 400 degrees
slice the butternut squash in half lengthwise

remove the seeds from the squash (I just use a spoon)

drizzle some olive oil over the squash, add salt and pepper, and spread evenly

roast cut side up for 45-50 until the squash is fork tender
while the squash is roasting, lets start the filling
cook quinoa or other rice according to instructions

once the quinoa is cooked, let cool and set aside
heat up a tablespoon of olive oil in a medium/large saucepan on medium heat
add garlic and onions to the pan until the onions appear translucent

dice up the poblano pepper and add to the pan (also add the plant-based ground beef or other protein at this step)

cook for 5-7 minutes
add the quinoa, reduce heat to low and cook for 2-3 minutes

the squash should be done by now, remove from the oven and let cool for a few minutes

remove the inside of the squash but leave about an inch in

add the squash that you removed to the stuffing and combine well with salt and pepper to taste
reduce the oven to 200 degrees
stuff the squash with the filling and cook for 3-5 minutes in the oven
remove the squash and add your favorite cheese! (I added Crow's Dairy goat cheese for Blue Sky Farms)

I served the squash with the rest of the filling to make a full meal

the small squash was very nice to cook with since I live and eat alone! Using a bigger squash would allow for all of the filling to go in and could be a complete meal! These small squashes were so good and could also be a great side dish! Pick up a butternut squash next time your at the market and make this amazing meal- you will not be disappointed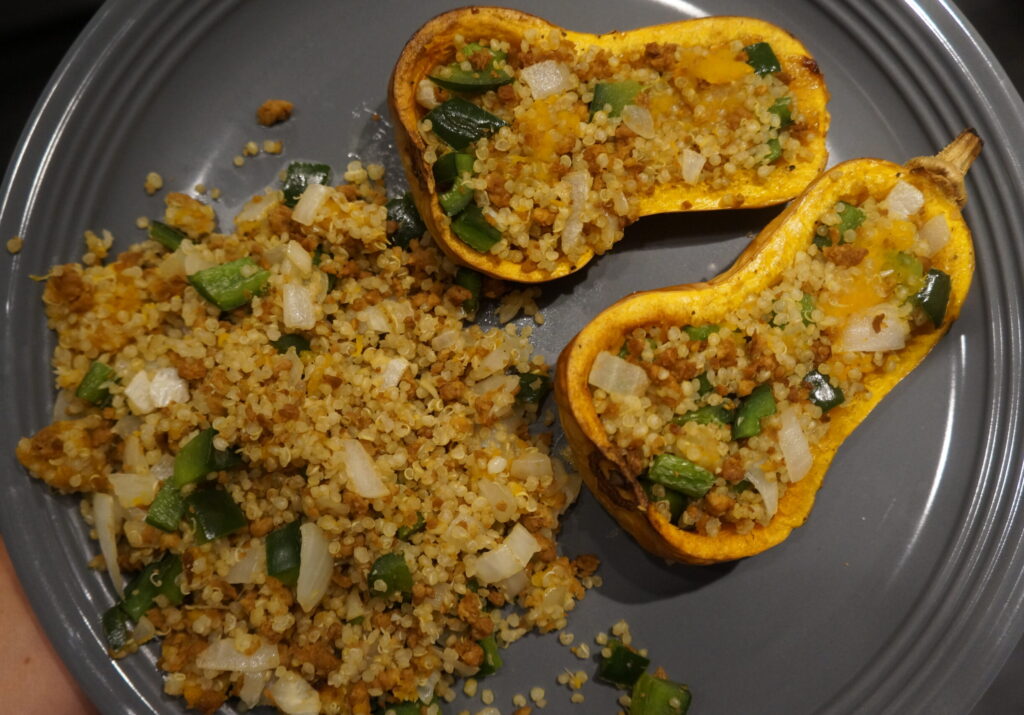 Posted in Agriculture, All Recipes, Chef, Downtown Phoenix, Gardening, Health & Wellness, Local, Loyal Local, Market Life, Recipe, Recipe Box, Summer, Sustainability, Taste of the Market, Uncategorized, Vegan, Vendor Feature, Vendors, What's In Season