Mediterranean Bamya (Okra and Tomato)
These past few weeks at the market I have been seeing multiple farmers bringing an abundance of okra. Before I made this dish, I had never cooked with okra, let alone even ate a dish with okra in it. I was very intimidated by this ingredient, but I am always up for trying something new in the kitchen; therefore, I finally bought a bag at the market on Saturday. After doing some research on different flavor combinations and techniques of cooking, I decided to make an okra and tomato stew (bamya), Mediterranean style. I served the bamya over a bed of jasmine rice and a side of pita to make a full meal and I was pleasantly surprised on how much I liked it. The dish includes spices such as coriander, allspice, and paprika as well as fresh ingredients like onion, garlic, and jalapeños and has the perfect Mediterranean flare for a nice summer dinner. 
fresh ingredients from local farmers
Blue Sky Farms: okra and sweet onion
Crooked Sky Farms: tomatoes
Al Hamka Farms: garlic
Duncan Family Farms: el jefe jalapeños
ingredients
1/2 pound fresh or frozen okra, sliced into rounds
1 tablespoon olive oil (I used jalapeño infused from Hatun)
4 garlic cloves, minced
1/2 sweet onion, diced
2 jalapeños
salt and pepper
teaspoon of allspice, coriander, and paprika
3/4 cup crushed tomatoes

can be store bought or homemade, I explain how I made mine in the recipe

1/4 cup of water
1 tomato, sliced into rounds
juice of 1/2 lime (add more in preferred after tasting)
(optional) parsley for garnishing
the process
heat the olive oil in a medium/large skillet over medium heat

add the garlic, onions, and jalapeños

cook for 4-5 minutes and stir regularly
add the okra and saute for 6-7 minutes over medium/high heat

season with salt, pepper, allspice, coriander, and paprika
add the crushed tomatoes and water and stir to combine

to make homemade crushed tomatoes:

boil water in a medium saucepan and score tomatoes with an x on the bottom
add the tomatoes to the boiling water for one minute

remove from the boiling water and transfer to a bowl of cold water for a few minutes

peel the skin off the tomatoes and add to a food processor or blender
blend until the tomatoes are finely crushed

add the slices of tomatoes on top of the mixture

bring the mixture to a boil and reduce heat and cover most of the way
let simmer for 20 to 25 minutes, until the mixture has thickened and the okra has softened

uncover and add the lime juice, taste and add more if needed
serve over rice or with warm pita bread!
enjoy 🙂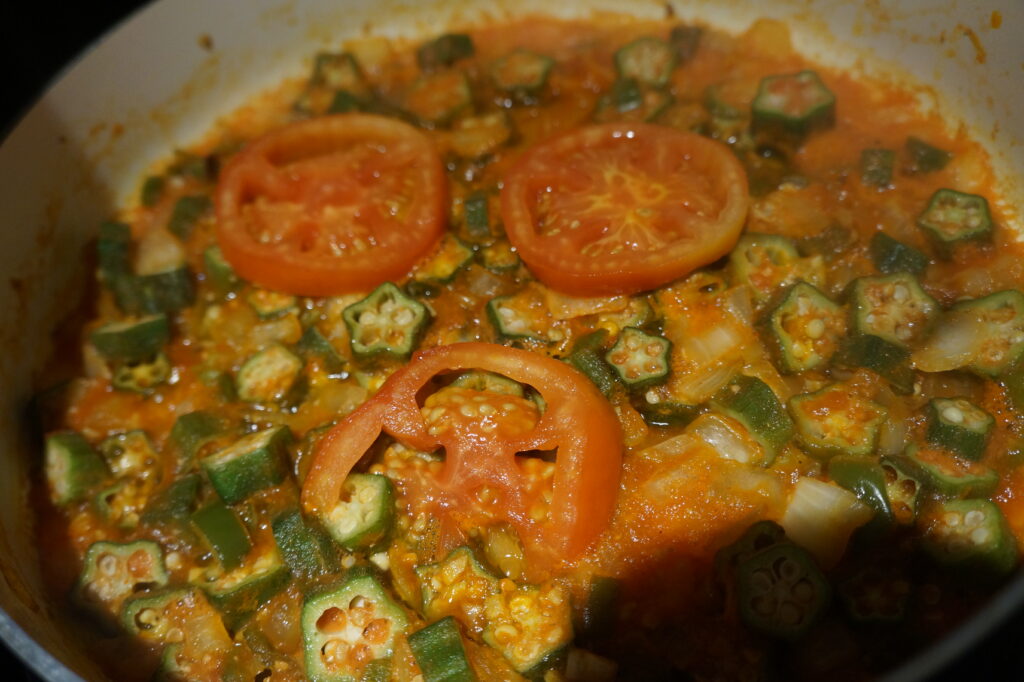 Posted in Agriculture, All Recipes, Chef, Downtown Phoenix, Gardening, Health & Wellness, Local, Loyal Local, Market Life, Non Profit, Recipe, Recipe Box, Summer, Sustainability, Taste of the Market, Vegan, Vendor Feature, Vendors, What's In Season