Beetaroni and Goat Cheese?
Today I bring to you a beautiful pink pasta dish made mainly from red beets and goat cheese, hence why I am giving it the corny name of beetaroni and goat cheese. All you need to make the sauce for this recipe is a blender a few key ingredients. The flavor of beets has never quite appealed to me, but the nutritional benefits they provide always have. Red beets are packed with potassium, vitamin a, iron, antioxidants, and numerous other nutrients so I was so glad to find a recipe that made them taste this delicious! Roasting the beets is not essential, but it definitely helps bring out the little sweetness of the red beet and removes some of the "dirt" flavor. The remaining pasta sauce stays well in the fridge for up to a week and can be reused to make this bright pasta dish!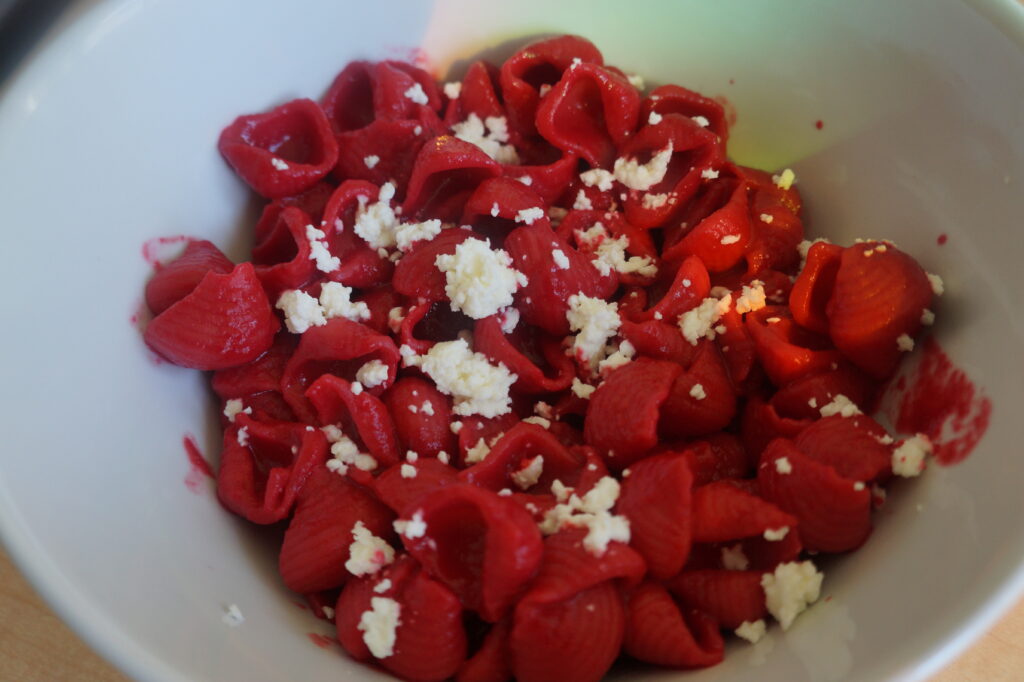 Local farmers and vendors featured in the dish:
Blue Sky Farms:
red beets: I have been eyeing these massive beets at the market for weeks, so I finally decided to pick some up
Crow's Dairy goat cheese: I try to avoid animal products as much as I can, but I love that Crow's Dairy cheeses are available at Blue Sky Farms every weekend. Their cheeses are absolutely delicious and are made locally in Buckeye Arizona by a family owned and operated company that loves and cares for their animals.
Phoenix Pasta Co.
vegan pasta: Phoenix Pasta Co.'s vegan pasta is always a pantry staple for me. I can hardly tell the difference in texture and taste from regular egg pasta, but it doesn't leave me feeling overly-full and bloated. Another plus is it is locally made here from a small company in Phoenix so it is not traveling many food miles to get into your kitchen! All of the shapes they make in the vegan pasta are great, but for this dish I chose shells.
Horny Toad Farm:
garlic: I may be bias because I love garlic, but this recipe is not complete without it. I used in total 5 cloves in the sauce and got it fresh from Horny Toad Farm last weekend. I roasted 4 of the cloves with the beets which added so much flavor and added a fresh one into the sauce as well.
ingredients
2 medium/large sized red beets
5 cloves garlic
3 tablespoons olive oil
pinch of salt and pepper
1 tsp cayenne pepper (if you like spice)
1/4 cup goat cheese
1/2 cup of pasta water (be sure to save some)
as much cooked pasta as your heart desires
more crumbled goat cheese for topping
the process
begin by preheating the oven to 425 degrees Fahrenheit
cut the stems off the beets and cut them into smaller pieces

place the beets on aluminum foil on a oven safe tray
add 4 cloves of garlic to the beets (I cut mine in half)
drizzle with some olive oil and sprinkle with salt

wrap the beets with the aluminum foil and roast for 35-45 minutes, until fork tender

to make the sauce:

allow the beets to cool enough to handle
begin boiling water for the pasta while they cool
remove the skin from the beets and add to a blender (I added 6 big pieces and saved the rest in the fridge)
in the blender with the beets, add the roasted garlic and an extra fresh clove, black pepper, cayenne pepper, olive oil, most of the pasta water, and goat cheese

blend until you get a thick sauce, keep adding pasta water if needed

cook the pasta according to package instructions: my vegan shells had a 10-14 minute cook time

add the pasta back to the pot and add some of the beet sauce and extra pasta water
add salt to taste and place in a bowl

top with more goat cheese and dig in!
Posted in Agriculture, All Recipes, Chef, Community, Downtown Phoenix, Health & Wellness, Local, Loyal Local, Market Life, Recipe, Recipe Box, Summer, Sustainability, Taste of the Market, Uncategorized, Vendor Feature, Vendors, What's In Season