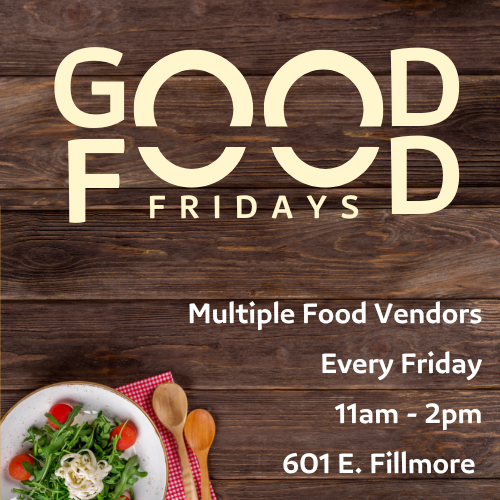 Good Food Fridays: Spend Your Lunch Hour with Us
Friday Lunch plans? Looking for something different to feast on in Downtown Phoenix?
We got you.
Join us every Friday for Good Food Fridays, a pop-up lunch event that features multiple food trucks and food vendors ready to dish up the 'good food' of your dreams. On the run? Pick up quick and easy grab n' go lunch meals or spend your lunch hour with us – dining alfresco at one of our tables set up during the lunch hour.
We pop up every Friday from 11 am-2 pm and rotate our food vendors. We are conveniently located in downtown Phoenix within the Phoenix Bioscience Core. Find us nestled under the shade trees at 475 N. 5th Street. 
December 2: Naturally Sweet, Maya's Cajun Kitchen, In The Now
December 9 – January 13: closed for the semester holiday break
Our Only Ask: Help Minimize Waste
We pride ourselves on being good stewards of our planet, and we ask that when you attend please be mindful of generating unnecessary waste. We aim to empower our community to make consistent choices that minimize waste and utilize the benefits of composting and recycling.
Easy ways you can get a jump start on this include:
– Bring your own reusable utensils
– Use biodegradable utensils, cups, or containers
– Understand the difference between compostable, recyclable, and trash (and properly dispose before you get to the trash trio station)
We will be onsite every week to answer your questions and can provide ways on how we can minimize our footprint.
———————————————————-
Good Food Friday Kicks off on August 19, 2022
Check out @dtphxfarmersmarket on instagram for the most up-to-date information on scheduled vendors each week.
When: Every Friday from 11:00AM-2:00PM
Where: 475 N. 5th Street (parking available at 555 E. Fillmore)
Who: Two to three food trucks and pop-up food vendors will be dishing up some of the latest local food goodness and selling prepared lunches every Friday. Selections are based on vendors who package sustainably and show knowledge of dietary restrictions/choices.
---
Interested in becoming a Good Food Vendor?
APPLY HERE