Our Merchants - November 2021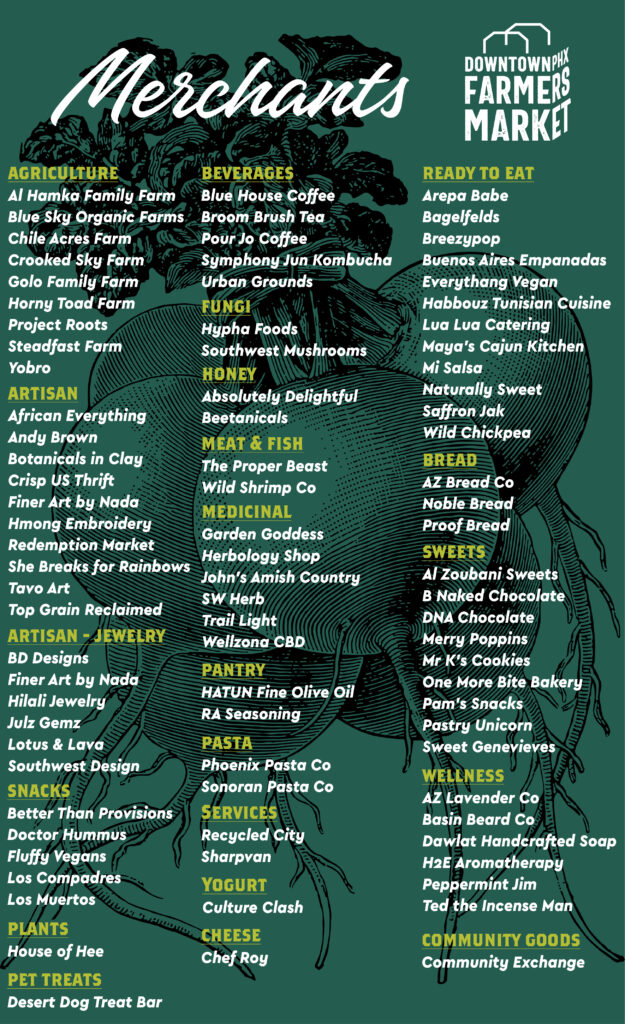 About Our Vendors
Roughly 80% of our vendors are food-based, while the remainder is artisans or service providers.
Roughly 13% of our total vendors are growers. We have 9 agriculture growers and 2 mushroom-based growers (fungiculture). Each of our farmers grows their food within Arizona, of which, a large majority grow within the valley.
We have a variety of ready-to-eat and take-home foods available. Vegan (V), Vegetarian (VG), and Gluten-Friendly (GF) options are also available. A majority of food vendors offer vegan and vegetarian options.
Strictly vegan vendors include
Better Than Provisions
Everythang Vegan
Fluffy Vegans
Maya's Cajun Kitchen
Sweet Genevieves
Wild Chickpea (also GF)
Some vendors only attend once a month or bi-weekly
Sharpvan (knife sharpening services) attends the first Saturday of each month
House of Hee attends biweekly (2nd + 4th Saturdays)
Andy Brown attends biweekly (1st + 3rd Saturdays)
We also host non-profits at our market