Our Merchants - February 2022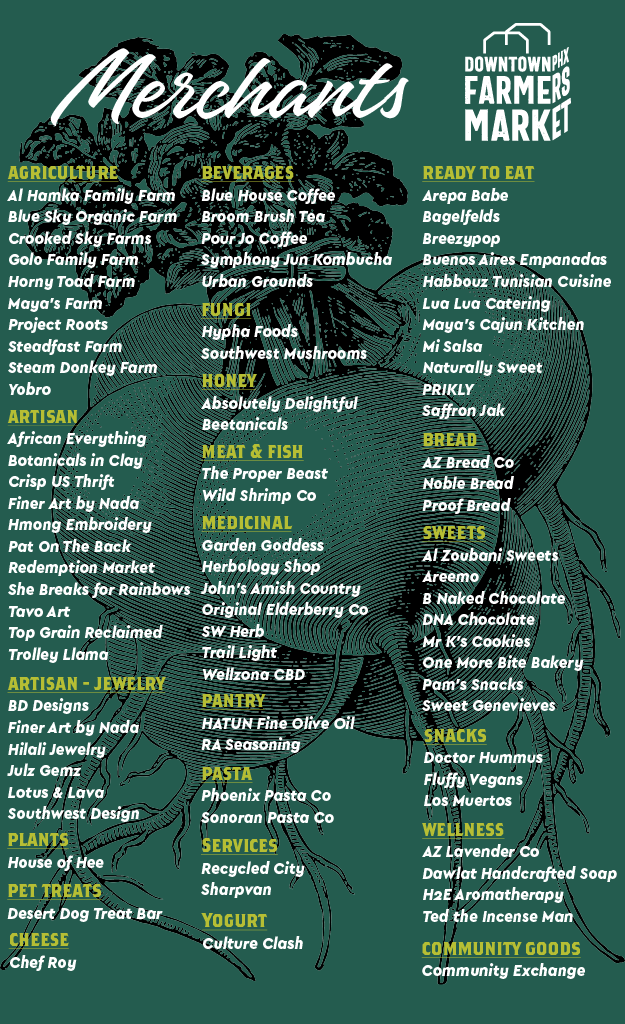 About Our Vendors
Roughly 80% of our vendors are food-based, while the remainder is comprised of artisans and service providers.
Roughly 14% of our total vendors are growers. We have 10 agriculture growers and 2 mushroom-based growers (fungiculture). Each of our farmers grows their food within Arizona, specifically the valley! Some farms have numerous locations they grow from, but nearly all grow within the valley (Crooked Sky Farms also grows in Duncan, AZ in addition to their farm in South Phoenix).
We have a variety of ready-to-eat and take-home foods available. Vegan (V), Vegetarian (VG), and Gluten-Friendly (GF) options are also available. A majority of food vendors offer vegan and vegetarian options.
Strictly vegan vendors include
Fluffy Vegans
Maya's Cajun Kitchen
Sweet Genevieves
Some vendors only attend once a month or bi-weekly
Sharpvan (knife sharpening services) attends the first Saturday of each month
Pat on the Back attends bi-weekly (Feb 5th & onwards)
Sweet Genevieves attends the last 2 Saturdays of each month
We also host non-profits at our market
Feed Phoenix serves our community to end food and housing insecurity. They accept food and clothing donations. They currently don't have a set schedule, it's best to check their social media for updates on their attendance!
Phoenix Allies for Community Health (PACH) administers free Moderna vaccines on the final Saturday of each month.
Sponsors at our market
Dogtopia attends biweekly (Jan 29th & onwards).