Burger Throwback Recipe
Throwback to Labor Day 2017 Burger Contest Winner!
KimSlaw Black Garlic Burgers
Created by: Ric Carrillo + John P Kraft
Featuring RA Seasoning Spices and The Proper Beast Sausages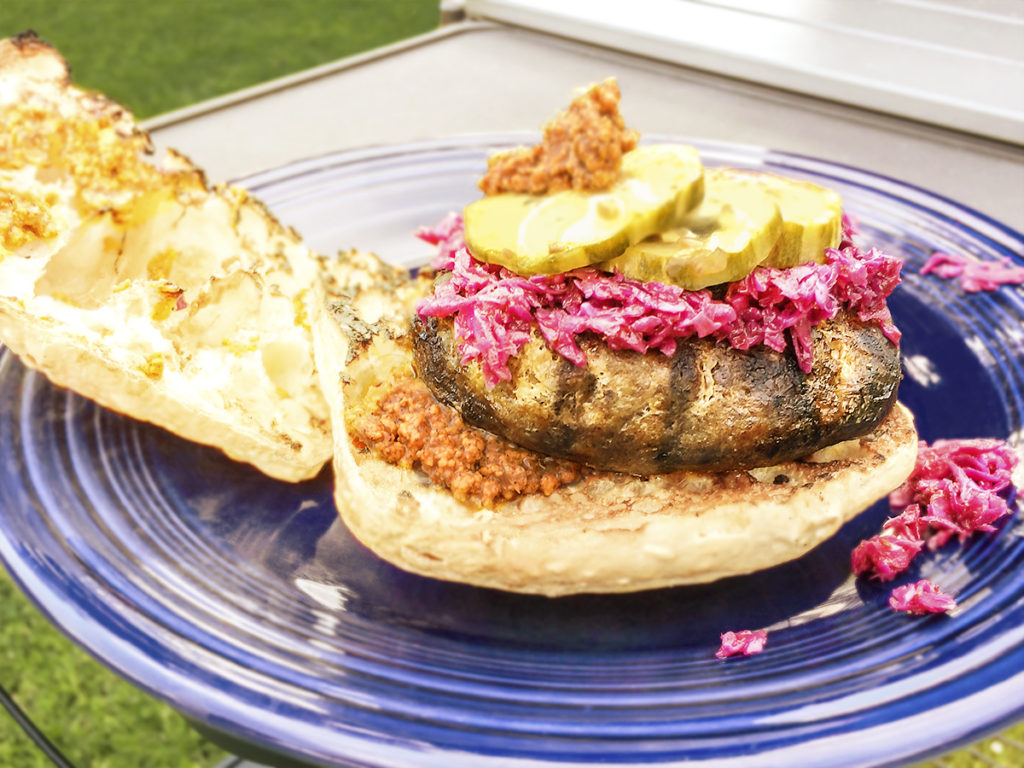 Read More for ingredients and recipe
---
3 lbs. Proper Beast Garlic & Honey Sausage, ground
2 ciabatta rolls, sliced to make 6 rolls
1 large cucumber, thinly sliced
1 small red cabbage, shredded
1 small red onion, thinly sliced
4 cloves garlic, minced
1 cup fresh dill sprigs
1 cup crème fraiche
1 ½ cups water
1 cup + 2 T red wine vinegar
¾ cup white vinegar
1/3 cup beef stock
2 T RA Seasoning Spicy Rub
2 T Coconut Curry Rub
1 T Sesame Oil
2 T honey
1 T kosher salt, plus more to taste
1/8 t black pepper
 Recipe serves 6

The day before, in a small pan, combine the red onion, 1 T honey, and 1 cup red wine vinegar and bring to a boil. Stir until the liquid is reduced and the onion is softened (3-4 minutes), then transfer to a heat-proof plastic container to refrigerate overnight.
Combine dill, 2 of the minced garlic cloves, and cucumber in a large mason jar. Combine water, white vinegar, remaining honey, salt, and pepper in a small saucepan, bring to a boil, then pour over the cucumber mason jar. Refrigerate overnight.
Combine the cabbage, remaining minced garlic, and beef stock in a large saucepan to bring to a boil. Stir occasionally until tender (4-5 minutes) then transfer carefully to a large mason jar. Add the remaining red wine vinegar, sesame oil, and Asian rub, and stir to combine. Salt to taste, then refrigerate overnight.
The next day, strain the red onion to remove any liquid not absorbed, then mince on a cutting board. Take ½ cup worth (you may have extra) and place it in a large bowl with crème fraiche and Ancho Chile rub, and purée until the consistency of a rough mustard.
Start your grill. Mold your sausage into 6 equal-sized burgers, and grill to your satisfied level of char (food safety: 160 F for internal temp), then add cut ciabatta for toasting.
Add your red onion chili spread to the cut sides of all rolls. Top your bottom bun with a burger, a large spoonful of red cabbage Kim-slaw, a few pickles, and the other half of the roll.
Posted in All Recipes, Chef, Contest, Recipe, Recipe Box, Summer, Vendor Feature, Vendors