Recipe Inspiration – Hot Cross Bacon Buns with Maple Icing
HOT CROSS BACON BUNS WITH MAPLE ICING
FOR THE BACON BUNS
•    2c. sugar
•    1 lemon plus grated zest of another lemon
•    1½ Granny Smith apples, unpeeled, cored, diced
•    1 cinnamon stick
•    750g (5 cups) plain flour
•    1c. dried fruit, diced (we used a medley from Sprouts market)
•    4 strips The Proper Beast™ bacon, cooked and diced (set 1 strip worth aside for the icing)
•    14g (2 packets) dry active yeast
•    3½ tsp ground cinnamon
•    ½ tsp allspice
•    Grated zest of 1 orange
•    1 tsp salt
•    1.75c. milk
•    7 Tbsp butter, coarsely chopped
•    1 egg
FOR THE MAPLE ICING
•    1c + 1Tbsp confectioners sugar
•    2 Tbsp maple syrup
•    1 Tbsp water
1. Combine 1.5c of the sugar and 1.5c water in a saucepan, then squeeze in the juice of half a lemon and stir over medium-high heat until sugar dissolves. Meanwhile, thinly slice the remaining lemon half and add to the saucepan with Granny Smith apple and cinnamon stick. Bring to simmer, reduce heat to medium and cook until lemon and apple are translucent (20–25 minutes). Strain the liquid and set both aside to cool. When cool to touch, dice the lemon slices and keep with the apples.
2. Combine flour, dried fruit, yeast, 3/4 of the diced bacon, 3 tsp ground cinnamon, allspice, zest, remaining sugar, reserved apple/lemon mixture, and 1 tsp salt in a large bowl and make a well in the center. Combine milk and butter in a small saucepan, warm over low heat until butter melts and mixture is lukewarm (90ºF–97ºF). Whisk in egg, then add the mixture to the flour, stirring to form a soft dough. Turn onto a lightly floured surface and knead until smooth and elastic (8–10 minutes). Place in a lightly buttered bowl, cover, and stand in a warm place until doubled in size (30–40 mins.).
3. Line a large round or rectangular baking tray with parchment paper. Knock back the dough and divide it into 20 even pieces on the cutting board. Knead each piece into a smooth ball. Arrange dough balls into two concentric circles, leaving space between each for the dough to expand. Cover with a tea towel and stand in a warm place until doubled in size (30–40 minutes).
4. Preheat oven to 425ºF. Bake for 10 minutes, then reduce oven to 375ºF and bake until golden and buns sound hollow when tapped (9–12 minutes).
5. While buns cook, combine reserved syrup and remaining 1/2 tsp cinnamon in a small saucepan and stir over medium heat until syrupy and combined. Brush thickly over the hot buns, then transfer to a wire rack to cool.
Icing the Buns
1. Put all ingredients into a small bowl and stir until thoroughly combined (icing should be thick enough to hold its shape when piped–add more sugar if it's too thin).
2. Fill the piping bag with a medium-sized tip (or use a plastic bag with a snipped corner) and pipe Xs on buns.
3. Sprinkle remaining bacon bits on top of buns (you may want to dice it a bit finer than the bacon inside the buns).
Enjoy!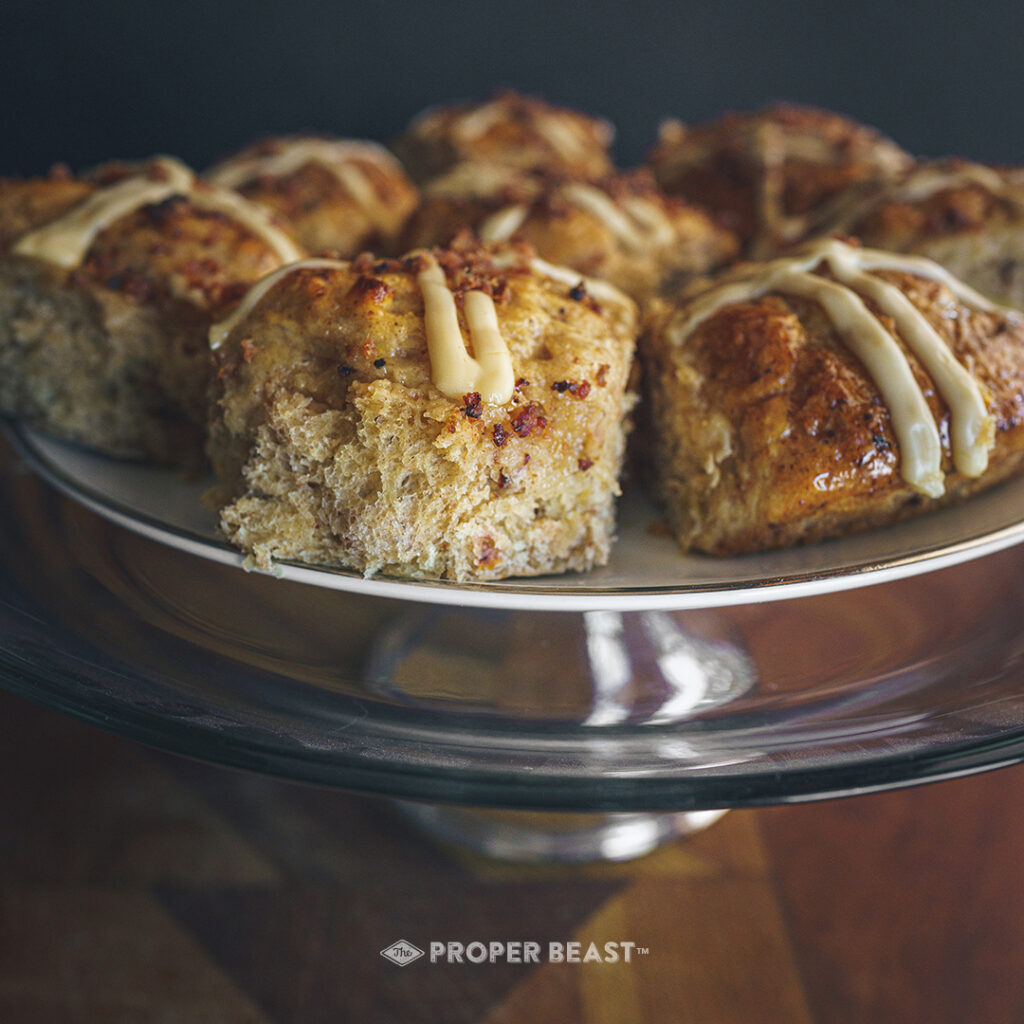 Posted in All Recipes, Community, Recipe, Taste of the Market, Vendor Feature