Tanya Chakravarty – Executive Director
The Community Food Connections (CFC) Board of Directors is thrilled to welcome Tanya Chakravarty as our new Executive Director. Tanya will begin her journey with us on Thursday, September 2, 2021.
As Executive Director, Tanya will report to the board of directors and oversee the financial, human resource, fundraising, and administrative management of CFC, as well as the execution of special events and projects. And of course, ensuring the continued success of the Downtown Phoenix Farmers Market.
Tanya is an Army veteran and long-time Phoenix resident with deep roots in Arizona's food community and local businesses. She is passionate about connecting people with their food sources, and educating the community on sustainable practices. She has owned a food truck, catering company, and events management company. In addition, Tanya has managed massive events and staff for the Sacramento Kings, NBA all-star games, MLB all-star games, and Arizona craft beer festivals. With Local First Arizona, she supported local businesses and co-managed the Feed Phoenix Initiative, which linked local farmers to local restaurants and caterers to create healthy meals for Phoenicians in need.
Tanya brings her professional experiences to the role of Executive Director of CFC and the Downtown Phoenix Farmers Market. She possesses the talent and knowledge to build upon CFC's stellar reputation in the Downtown Phoenix area by strengthening connections within communities, supporting donors and volunteers, and bringing engaging, new events.
In her spare time, she loves to try new cooking techniques and ingredients and has two dogs, a chicken, and a garden overflowing with spicy peppers.
– Community Food Connections Board of Directors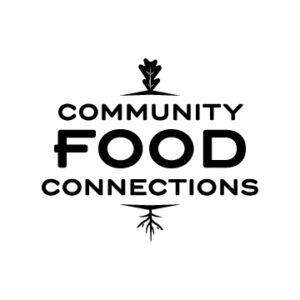 Posted in CFC, Community, Downtown Phoenix