Friends On First Artisan Market
Friends On First Artisan Market
Saturdays | April 3rd – May 8th | 9am – 12pm
In conjunction with Downtown Phoenix Farmers Market, Friends On First Artisan Market is an opportunity to celebrate spring and support local businesses with 20 makers, artisans and food producers. Friends On First is in collaboration with Sidewalk Saturdays, a community-wide effort to promote shopping local with happenings popping up around downtown Phoenix!
Launching April 3rd, 9 am – 12 pm, Friends On First Artisan Market will showcase a curated selection of Phoenix's finest artisans including visual arts, wellness products, produce, sweets, and home products. Celebrate the season and find immune-boosting brews from Broom Brush Tea or Spiritual Healing Garden turmeric body scrub. Friends On First celebrates the ingenuity of independently owned, small businesses and artists who channel their passions into creating unique handcrafted products.
This admission-free fair offers live music and merrymaking while you discover great finds for yourself and others.  Shop with the makers themselves and learn how they make their unique works of art. This weekly open-air artisan market, located on the southwest corner of First Street and Garfield in downtown Phoenix, will run for six weeks on Saturdays, April 3rd to May 8th, 9 am – 12 pm, just in time to celebrate Mother's Day!
Friends On First Artisan Market is hosted by Community Food Connections (CFC), a 501c3 non-profit organization dedicated to making quality, nutritious food more accessible through the Downtown Phoenix Farmers Market and vital partnerships. As an essential resource to our local economy, the CFC mission is focused on strengthening small farmers and businesses that foster sustainability and produce products for the local community.  As always, the community can shop the Downtown Phoenix Farmers Market for local groceries and home goods Saturdays 8 am – 1 pm, year-round, at 1st Street & Pierce!
Friends On First vendors inlcude: Ana's Flowers in Arizona, BD Designs, Bleu dâ Olive, Broom Brush Tea, Dawlat, Garden With Janet, Merry Poppins, Project Roots, Scentartistry, Spiritual Garden Healing, Unique Expressions by Marissa, WasteNot.
Friends On First Artisan Market and the Downtown Phoenix Farmers Market will also serve as a community donation site for The International Rescue Committee (The IRC).  The IRC in Phoenix is committed to bringing their refugee clients from harm to home. As a part of that commitment, they provide them with necessities – such as clothing and household items – they will need to start rebuilding their lives here. To do this, the IRC relies on donated items from community partners that are passed into the hands of their clients.  Some of their most urgent needs include an emphasis on new towels, socks, underwear and bras.  A full list of items can be found online here.
All vendors & shoppers are required to wear a mask at the market and to observe CDC guidelines. Each booth is spaced apart and masks and social distancing are required at all times.  Attendance capacity will be monitored throughout the duration of the market hours. Hand sanitizer will be available at multiple locations throughout the event. Find a complete list of COVID-19 market changes and precautions online here.
Interested in applying as a vendor? – please email us at info@communityfoodconnections.org – be sure to include your business name, items you would like to sell and links to your website and social media.
Volunteers are needed for morning and afternoon shifts. Interested individuals can sign up by clicking here.
Dates: Saturdays – April 3rd, April 10th, April 17th, April 24th, May 1st, May 8th
Times: 9:00am – 12:00pm
Address: 818 North First Street Phoenix Arizona 85004
Cost: Free Admission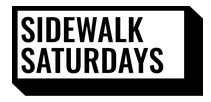 Read more about the community-wide Sidewalk Saturdays event online here.
Press inquiries sara@communityfoodconnections.org
Posted in Artisan, Community, Downtown Phoenix