Tohono O'Odham Squash Recipes
Pumpkin Pasta Recipe
4 cups of Tohono O'Odham squash, pumpkin, or acorn squash, peeled and cut into small cubes

4 garlic cloves, peeled and chopped

½ tsp of crushed red pepper

Dried fusilli pasta or Creste de Gallo pasta

½ cup of half & half or whole milk

1 cup oyster mushrooms, cut into small pieces

½ cup of grated parmesan cheese

2 Tblsp EVOO

S&P to taste

Herb for garnish: parsley, chives, garlic chives, or garlic

Water
Cut the squash into small pieces about ½ inch cubed. In a deep pot over medium heat, add just enough olive oil to coat the bottom of the pot. Add the garlic cloves, mushrooms, and red pepper flakes. Cook for 3-4 minutes or until the garlic starts to turn slightly brown. 

With a slotted spoon, remove the sauteed garlic/mushroom mix. Add all the squash to the pan and sautee for 4-5 minutes or until the squash edges turn slightly brown. Add some extra olive oil if needed. 

Once the squash shows a bit of browning, fill the pot with water so that it covers the squash and there is an additional inch of water on top. Bring to a low boil and let cook for 12-15 minutes or until the squash is tender. 

Remove half the squash from the water and set aside. Add pasta to the remaining squash and water mix and cook the pasta for the time indicated on the bag. 

Meanwhile, in a blender, puree the removed cooked squash with the milk. 

To the pasta, squash and water, add the puree, the garlic/mushroom mix, parmesan cheese and reduce heat to medium low. 

Let it heat throughout and add salt and pepper to taste. Garnish with herbs and shaved truffles (if you have them) and serve.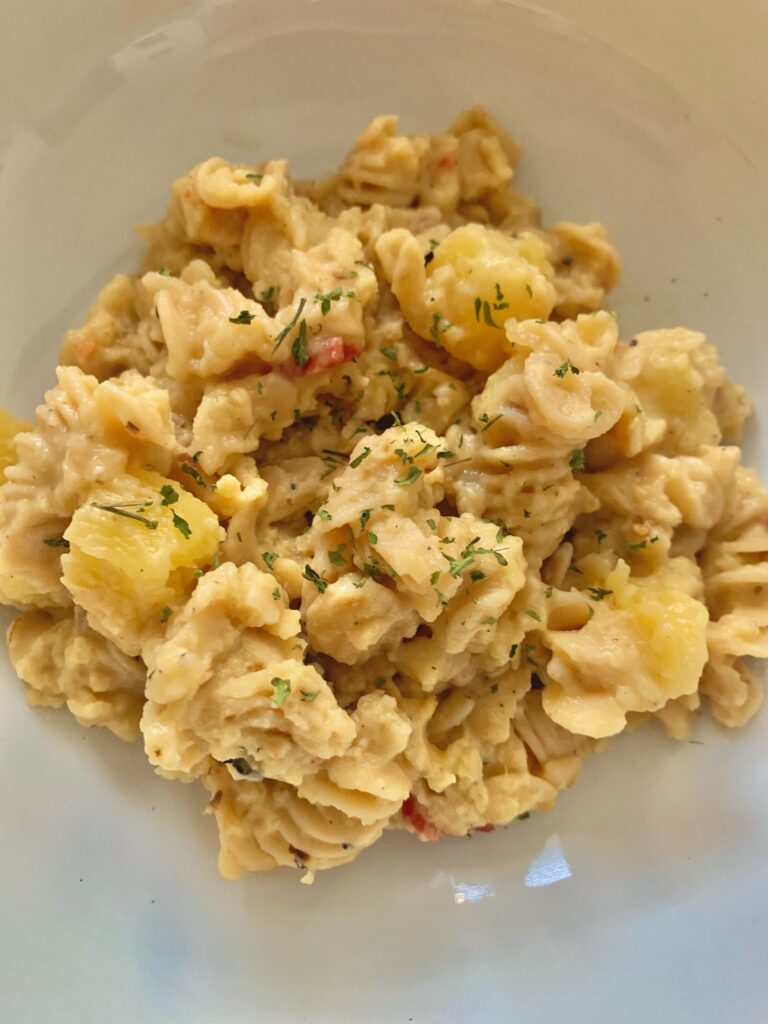 Sourcing: 
Crooked Sky Farms – Tohono O'odham squash or pumpkins
Southwest Mushrooms – oyster mushrooms
Al Hamka Farms – garlic & herbs
Phoenix Pasta Company – fusilli pasta 
Sonoran Pasta Company – Creste De Gallo Pasta
Community Exchange Table – fresh herbs
Hypha Foods – truffles
Veggie Enchiladas
1 cup of Tohono O'odham squash, pumpkin, or butternut squash peeled, cut into ½ inch cubes

1 medium white onion, diced

3-4 cloves of garlic, chopped

3-4 Hatch chili peppers, blistered, skin removed, chopped

8 oz of mushrooms torn into smaller pieces

1 block of cream cheese or vegan cashew cheeze

Shredded Mexican blend cheese or plant based cheeze

Chili Colorado Sauce 

8-10 Corn tortillas

Vegetable oil

Fresh cilantro 

Sour cream

S&P
Combine all the vegetables onto a sheet pan and drizzle with a bit of oil, season with salt and pepper, and pop into a 400-degree oven for 18-20 minutes or until the squash is tender.

Meanwhile, cover the bottom of a frying pan with about ½ inch of oil and heat over medium-high heat. Fry each corn tortillas in the oil until just softened, only a minute or two on each side. Let rest on a paper towel until all are softened. 

In a 9"x9" baking pan, line the bottom with chili Colorado sauce. Take your softened enchiladas and spread a bit of cream cheese across the middle, fill with roasted veggie mix, roll and put in the baking pan. 

Top with more chili Colorado sauce and shredded cheese. Cover with aluminum foil and bake at 400 degrees for 20 minutes, remove foil and bake for another 10 minutes and the cheese is bubbly and brown. 

Let rest for 5 minutes, top with fresh cilantro and sour cream, and enjoy.
Sourcing:
Crooked Sky Farms – Tohono O'odham squash, pumpkins, onions, blistered Hatch chili peppers
Al Hamka Farm – garlic
Southwest Mushrooms – mushrooms
Mi Catering – Chili Colorado sauce
Los Compadres – fresh corn tortillas
Fluffy Vegans – Nacho Mama's Nacho Cashew Cheeze, PeppaJack Cashew Ceeze
Blue Sky Organic – cilantro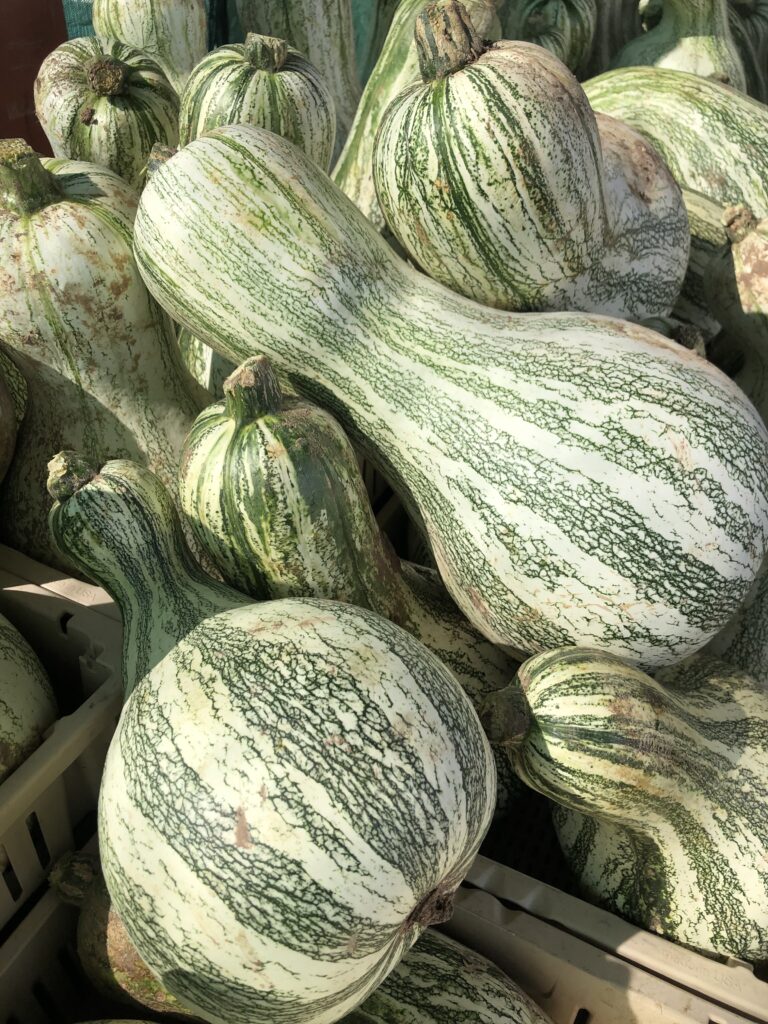 Recipes created by Tanya 🙂
Posted in Agriculture, All Recipes, Chef, Fall, Recipe, Recipe Box, Taste of the Market, Vegan, Vendor Feature