Market on the Move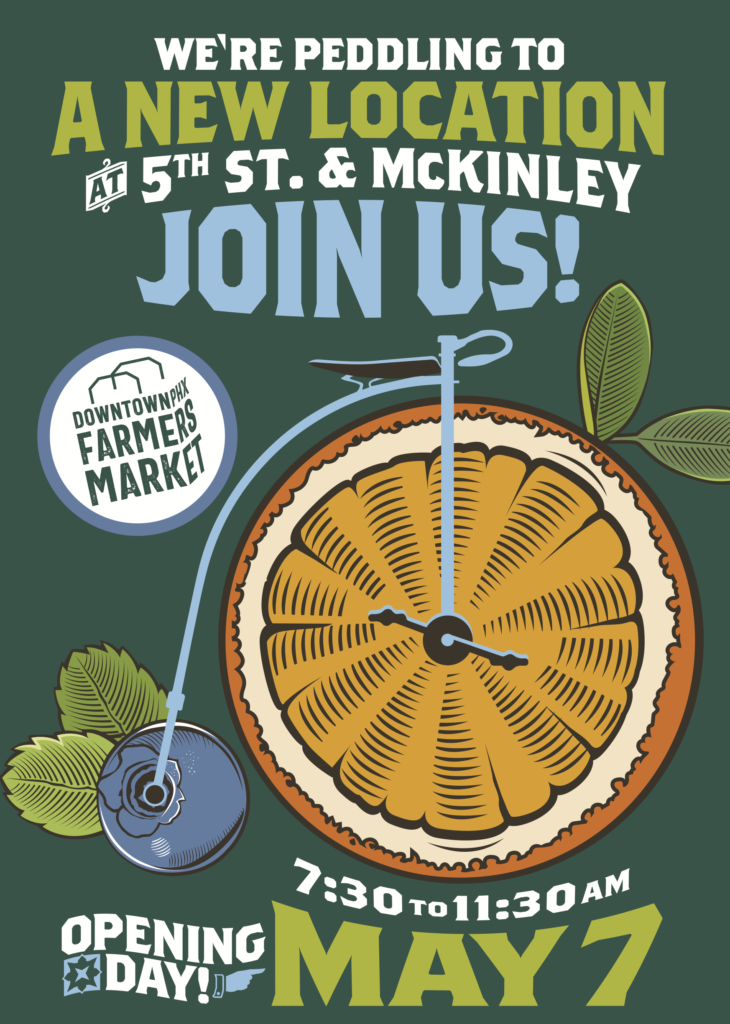 We've moved locations! You can now find us at 720 N. 5th Street. Our new summer hours are 7:30 a.m. to 11:30 a.m. Our new location is in the heart of the Phoenix Bioscience Core. 
Here are some tips to enjoy the new market location:
Parking – free and metered street parking, but some only take quarters. W

e have validation for parking at the Fillmore Parking Garage located at 555 E. Fillmore; just stop by our info booth for validation while supplies last. 

Please note that 4

th

Street is one way northbound.

Refer to the market map for parking options

Alternative transportation – The market is an easy walk for anyone who lives Downtown. Those who ride their bike can park in the shade of the 850 PBC building along 4

th

St. The City of Phoenix will be installing additional bike parking adjacent to the market throughout May & June. For anyone riding the bus, the closest stop is 7

th

Street and Fillmore. The nearest light rail stop is still Roosevelt & Central Ave (less than a half-mile). Check out the new e-scooters that are all over downtown for a zippy ride from the light rail to the market. 

Plenty of sunshine – While the new location has all of our same vendors and delicious food, it does not have the same carport shade structures that we are accustomed to. Please bring plenty of water, sunscreen, a hat, and/or sunglasses to enjoy the market in full sunshiney goodness.

Pets – Good dogs, cats, and other family pets are welcome at the market and we highly encourage that you put booties on your pups' feet to protect them from the heat of the asphalt. Pet and human water stations will be available at the market. 

What to bring – Make sure to bring all of your own grocery bags, reusable utensils, straws, take-out containers, refillable water bottles, and coffee cups. Also, be sure to bring plenty of cold water and protection from the sun as the summer arrives. 

Entertainment – Our friend Weldeab will be holding it down all market. Catch him next to the dining area emitting easy-going vibes on his guitar and other electronic tunes! 

Social media – keep an eye on our social media for updates on vendors, community partners, and entertainment. Also, post your Farmers Market finds and tag us @dtphxfarmersmarket (IG)! We love to see what goodies you find each week!
Huge thanks to the City of Phoenix and the Phoenix Bioscience Core for helping us continue to serve the community and support our growers.
Posted in Agriculture, CFC, Community, Downtown Phoenix, Events, Fundraiser, Local, Market Life, News, Summer