Refreshing Summer Strawberry Salad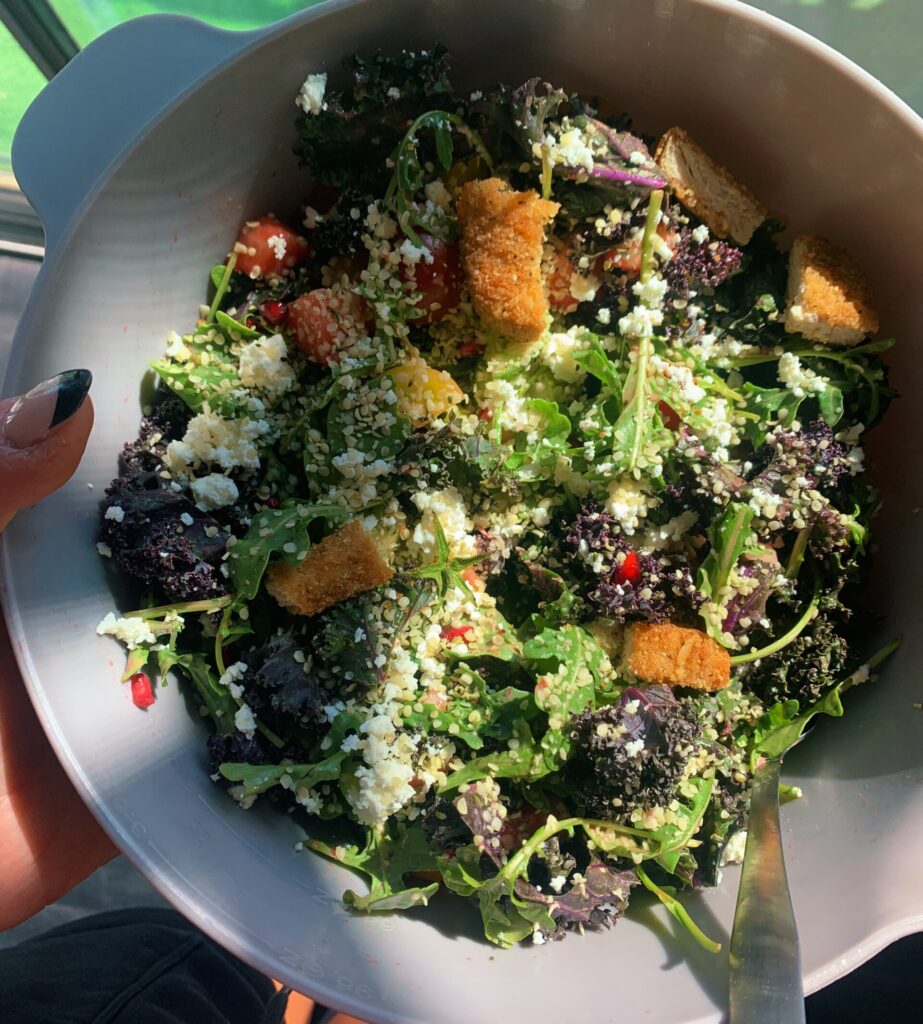 With the heat of the Phoenix summer approaching, this refreshing strawberry salad is a great way to prepare a nutritious meal full of fresh fruits and vegetables. This salad is the perfect side dish for a barbecue night or could be a fulfilling meal with some protein added to it. The dish is vegetarian and can be made vegan, and a majority of the ingredients used are directly from local farmers and vendors at the market. I will start by explaining what ingredients I got from the market and what farmer/vendors I bought them from; then, I will give a step by step recipe showing how I prepared the salad. 
Ingredients and Farmers:
All of the ingredients I got from the market to make this salad were from Blue Sky Farms and Steadfast Farms. I added some shelled hemp seeds and pomegranate seeds that I already had in my pantry, but no need to include them. The great thing about salads is their versatility; you can really take anything out or add any other ingredients you have in your kitchen!
Blue Sky Farms: strawberry vinaigrette dressing, Crow's Dairy original goat cheese, purple kale, strawberries, and grape tomatoes.
The strawberry vinaigrette dressing is made from simple and real ingredients by Blue Sky Farms including strawberries, olive oil, and vinegar. I will definitely be keeping a bottle of this dressing in my fridge all summer long because it is such a convenient way to add some great flavor to your greens.
Steadfast Farms: cucumbers and arugula.
The Process: 
I won't give all exact measurements for this recipe because it can really scale at any measurements you prefer!
I began by rinsing one bunch of purple kale over water, removing the leaves from the stem, and cutting it into smaller pieces. I like to use a salad spinner after to rinse the water off, but if you do not have one, patting the leaves dry works perfectly fine.
Purple kale is an extremely nutritious food that provides an excellent source of vitamins A and C, iron, calcium, magnesium, potassium, protein, carbohydrates, and dietary fiber. It's in season all year long and can be found right at Blue Sky Farms at the market.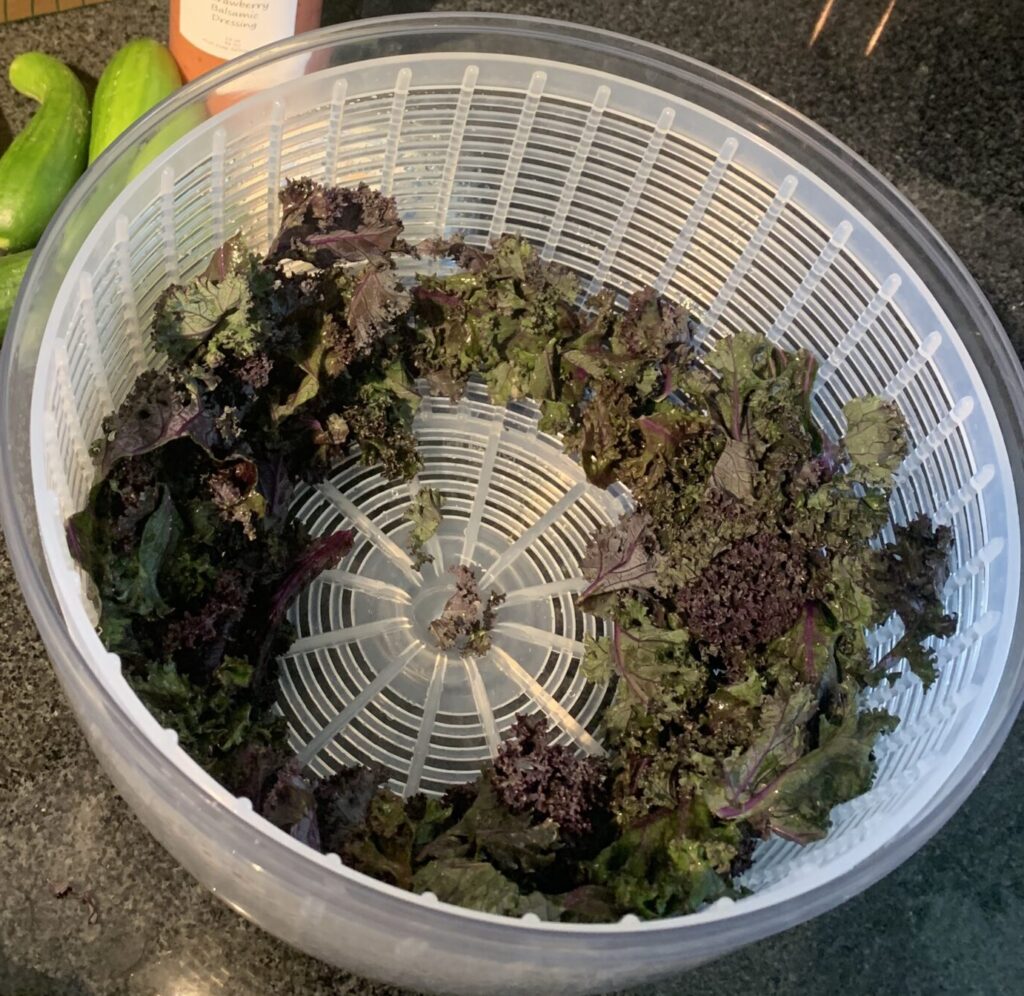 I then added the arugula from steadfast farms which was pre-washed and ready to be used.
Arugula is an excellent superfood filled with antioxidants that can add great flavor to any dish.
Once I had my base of greens ready, I cut up some cherry tomatoes and a few baby cucumbers.
Tomatoes and cucumbers are both in season in the summer and add a wonderful refreshing flavor and crunchy texture to the salad.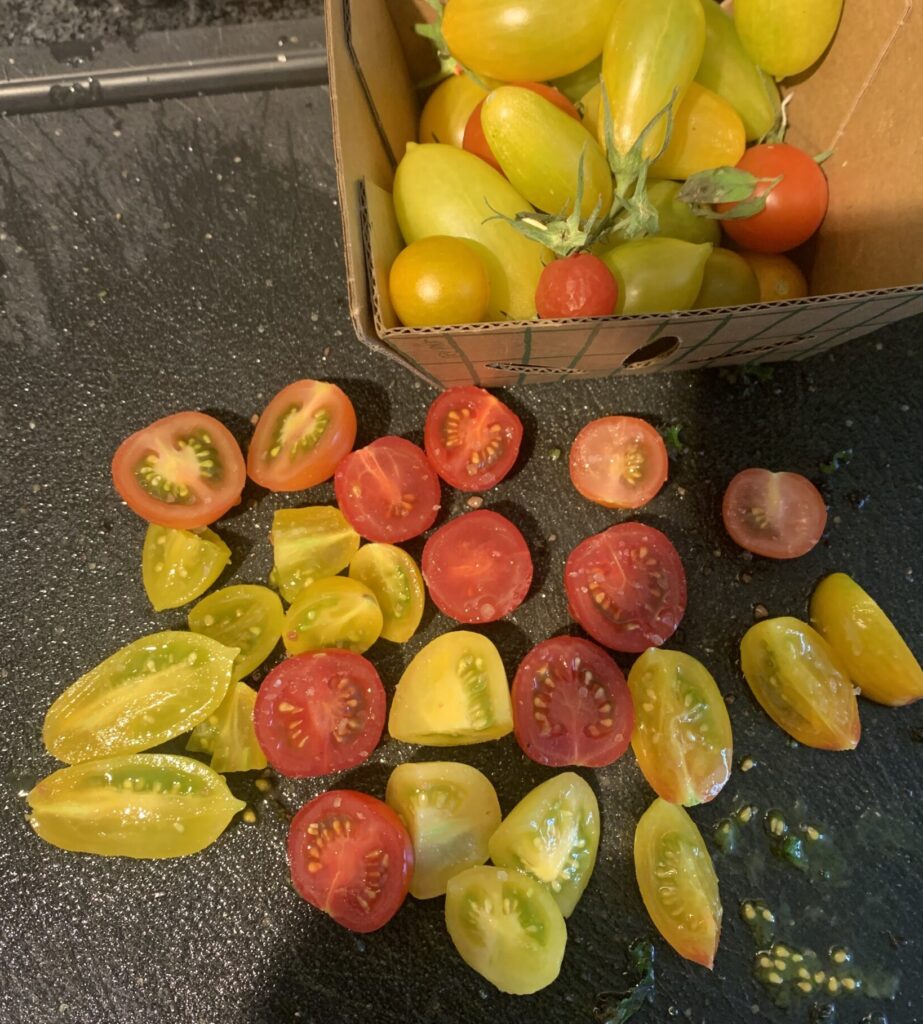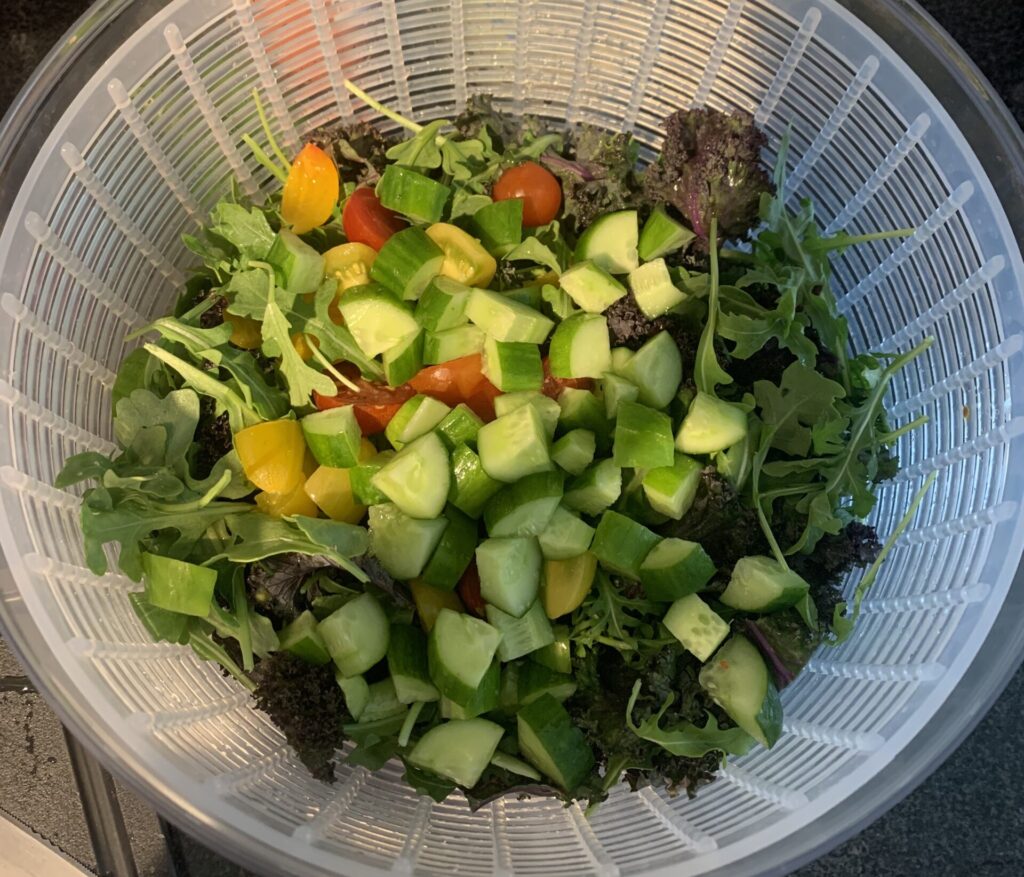 Next, I rinsed and cut up some strawberries from Blue Sky Farms since the season is almost over and added some pomegranate seeds I had in my fridge; this added some amazing natural sugars and sweetness to the salad.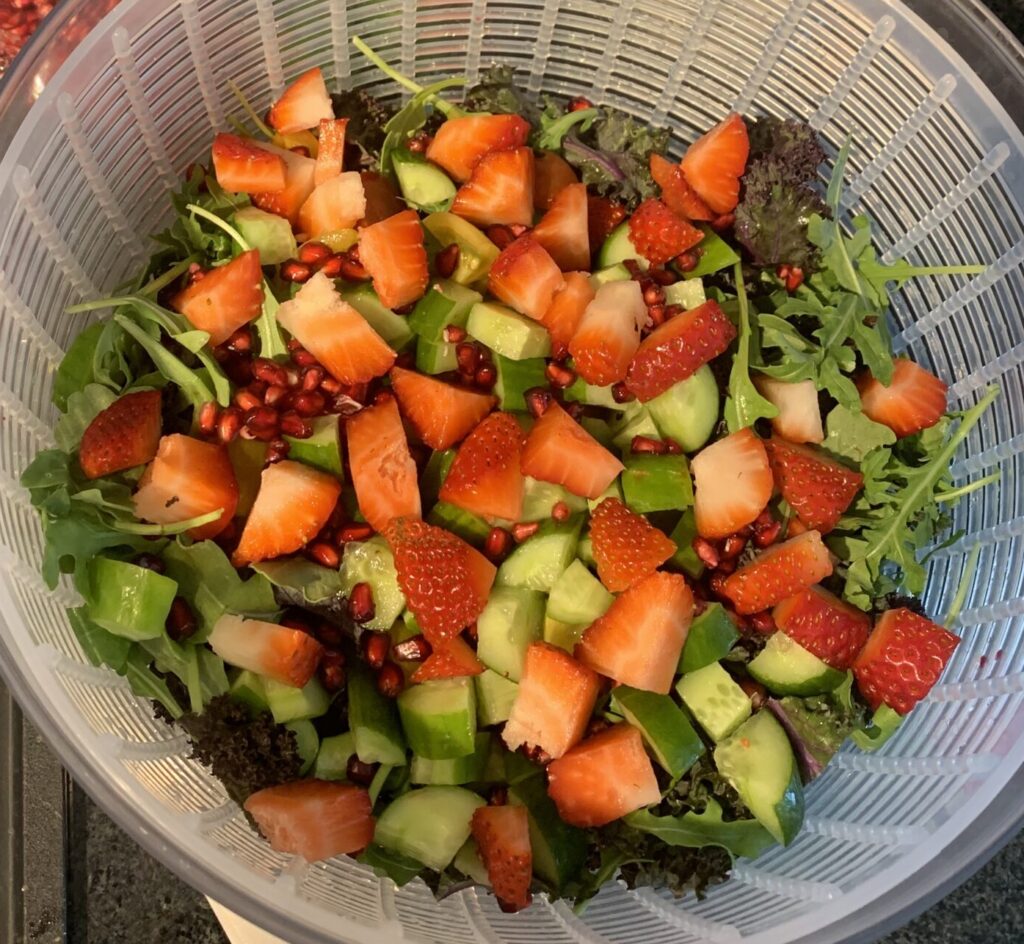 I like to measure dressing with my heart, so I added about 3 tablespoons of the strawberry vinaigrette dressing to coat the salad and tossed it all together.
After the salad was completely mixed together, I crumbled some of the original goat cheese from Crow's Dairy (available to purchase at Blue Sky Farms) as well as a pinch of salt and pepper. If you would like to keep this recipe vegan, simply exclude the goat cheese or stop by Fluffy Vegans for some vegan cheese alternatives!
I chose to include the goat cheese because I think it pairs very well with the strawberry, cucumber, and tomato flavors but you can switch up the cheese to your own preference. All of the crows dairy cheeses are a great option because it is locally made here in Buckeye, Arizona which makes it extremely fresh (you can definitely taste the difference). This also ensures the cheese has traveled less food miles being delivered to the store, making it much more sustainable!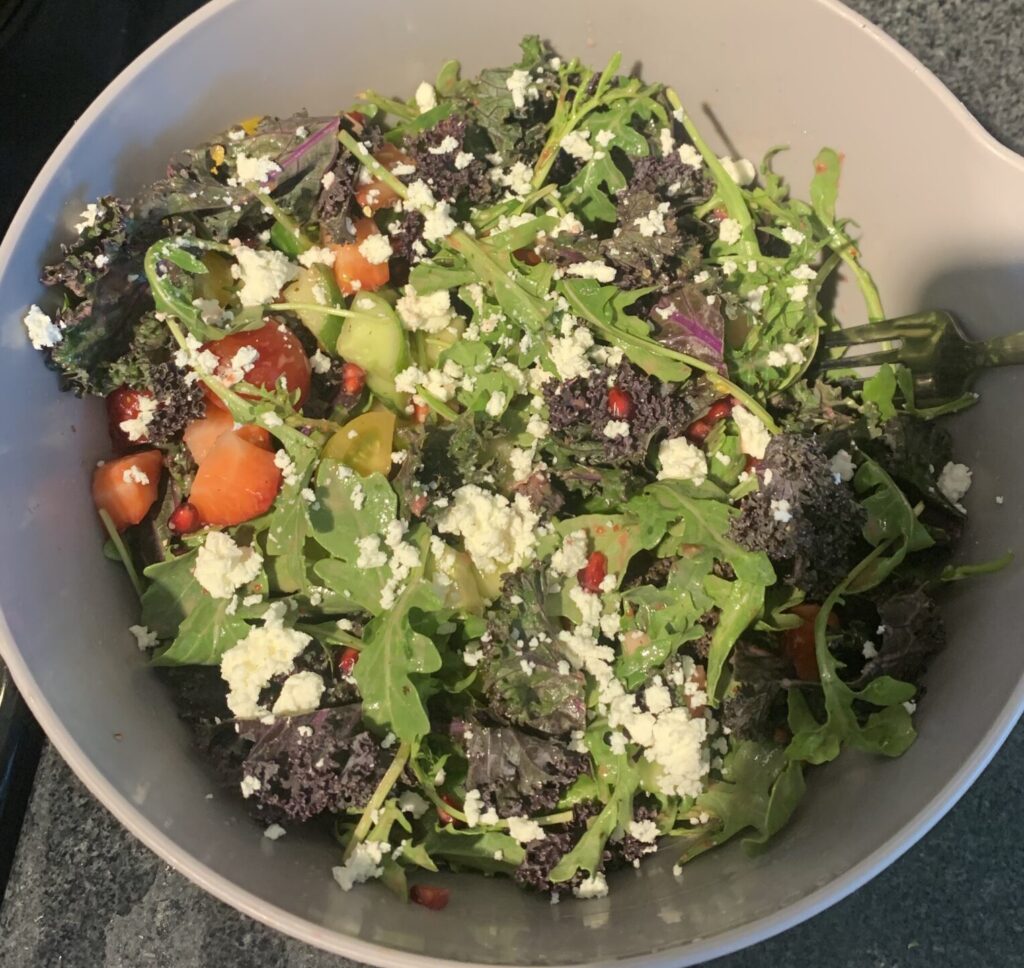 This alone is an amazing and refreshing salad and would make the perfect side dish for any hot summer day.
If you are making this as your meal, I recommend adding some protein to it based on your dietary preferences.
I decided to add some hemp seeds and fake chicken that I had in my kitchen from my local Trader Joes to make it more filling, and it was absolutely delicious!
Search for these fresh ingredient's at the market all summer long to recreate this summer salad!
Posted in Agriculture, All Recipes, Chef, Community, Downtown Phoenix, Health & Wellness, Local, Market Life, Recipe, Recipe Box, Summer, Sustainability, Taste of the Market, Vegan