Rosemary Smashed Potatoes
Let's face it, potatoes are amazing in any form they take whether its a baked potato, mashed potatoes, french fries, potato chips, etc. Today I bring to you my new favorite way to make potatoes: smashed potatoes. The process is quite simple and requires very little ingredients, but the result is delightful. In my opinion, these are some gourmet potato chips that will satisfy everyone. I added an extra twist to the potatoes by using fresh minced rosemary from Maya's Farm and rosemary infused olive oil from Hatun. Grab yourself a bag of baby potatoes from Blue Sky Farms at the market this weekend while they are in season!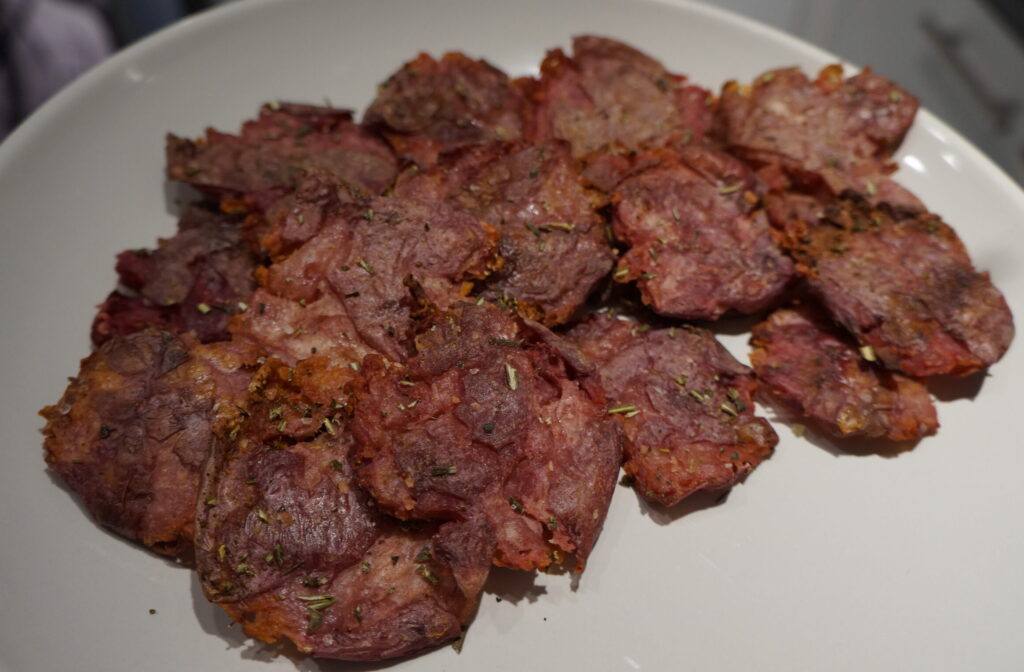 fresh ingredients from local farmers and vendors
Blue Sky Farms:
baby red potatoes
Maya's Farm:
fresh rosemary
Hatun 
rosemary infused fresh crush olive oil
ingredients
1/2 bag baby red potatoes (can substitute baby golden potatoes)
3 tablespoons rosemary infused olive oil
3 tablespoons fresh rosemary, minced
1 tablespoon garlic powder
pinch of ground black pepper
salt to taste
optional ketchup or other sauces for serving
the process
begin by preheating the oven to 425 degrees Fahrenheit
next, rinse and scrub your baby potatoes under hot running water

add the potatoes to a medium sized pot and cover with at least an inch of water

bring the water and potatoes to a boil and simmer for about 20-25 minutes

once a fork can very easily slide into the potato, strain the potatoes and let them cool

as the potatoes cool, mince the rosemary

once the potatoes are cool enough to handle, take the bottom of the cup and mash them into flat pieces (I used the bottom of an old jar)

next, line your smashed potatoes on a non-stick baking sheet
drizzle the olive oil over top of the potatoes and add the minced rosemary, garlic powder, pepper, and salt.

let the potatoes cook in the oven for 25-30 minutes, or until golden brown and crispy on the outsides

remove from the baking sheet and serve with your favorite dipping sauce!
This quick and simple recipe is a great way to add some vegetables to the side of any dinner this summer! Potatoes are a very affordable and accessible vegetable that will add color and satisfaction to any meal. Make sure to grab some next time your shopping at the market!
Posted in All Recipes, Artisan, Chef, Community, Downtown Phoenix, Gardening, Health & Wellness, Local, Loyal Local, Market Life, Recipe, Recipe Box, Summer, Sustainability, Taste of the Market, Uncategorized, Vegan, Vendor Feature, Vendors