Homemade Black Bean Burgers
Who said vegetarians can't enjoy a nice burger?
As someone who used to eat meat and has transitioned to being vegetarian, there are definitely times where I still crave a filling burger. Yes, they sell frozen black bean burgers at grocery chains; but, if you make them at home you can customize them to whatever flavor you like and reduce the amount of food miles the burgers have traveled.
Using all local ingredients from the farmers market makes these the most flavorful and sustainable burgers for everyone! This specific recipe is not vegan because I added an egg, but this can be substituted for egg replacement or a flax egg.
The thing that I love about this specific recipe is that it is extremely customizable. You can really add any spices, herbs, or chopped veggies that will help give them the flavor you are looking for. For my burgers I decided to keep it simple because I made a large batch and just added onion, garlic, sweet corn, cilantro, cumin, and cayenne pepper.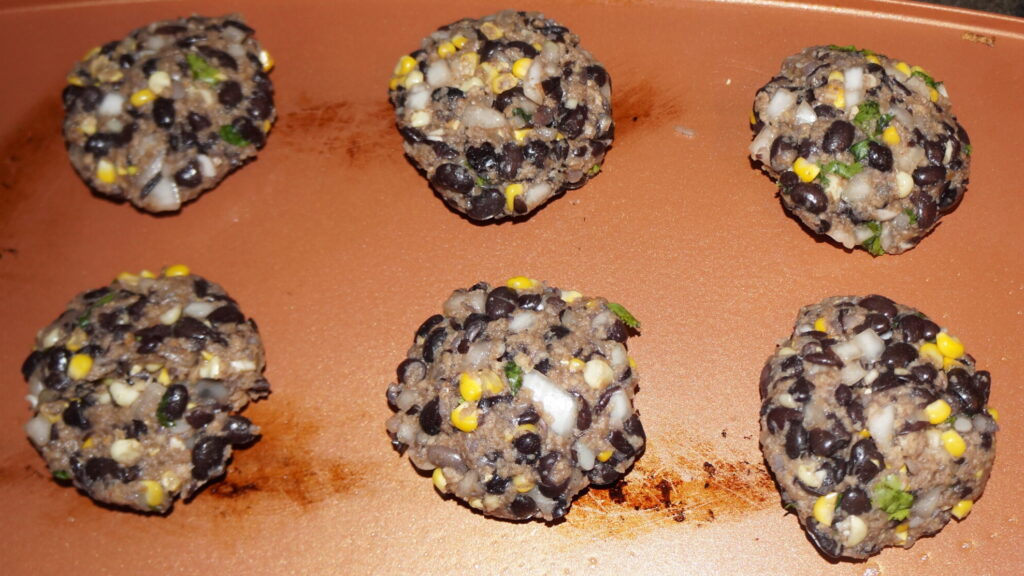 Ingredients
3 cups of drained black beans 
I decided to use dry black beans from Crooked Sky Farms because the beans have such a nice texture, flavor, and size when they are cooked fresh. Check out my post on how to cook dry beans here: A Dry Beans How To
1/2 chopped yellow onion
1 clove of garlic, minced
1 cob of sweet corn, removed from the cob 
1/4 cup chopped cilantro 
veggies: You can choose any vegetables that you want to include in the burgers as long as you chop them into fine pieces. I chose to do mostly sweet corn base because it is in season, but I also added onion, garlic, and cilantro.
1/2 tsp of cumin
1/2 tsp of cayenne pepper
salt and pepper to taste 
1 large egg (egg replacement or flax egg if vegan)
1/2 cup of panko bread crumbs (replace with oat flour if vegan)
bread/bun of choice
tomato slice for serving
romaine lettuce for serving
red onion for serving
the bread/bun and serving enhancements are also completely customizable for your preferences!
non-stick cooking spray or oil for cooking
Fresh ingredients from small farmers at the market!
For these burgers, I used ingredients from Crooked Sky Farms and Blue Sky Farms
Crooked Sky Farms:
At the market, I grabbed black beans, eggs, a yellow and red onion, and cilantro, from Crooked Sky Farms.
fresh herb tip: if you store your cilantro in a cup filled with water in the fridge so that the stems are submerged at least an inch, the cilantro will last much longer. I have had cilantro last up to 5 weeks in the fridge using this method.
Blue Sky Farms: 
I used sweet corn and garlic from Blue Sky Farms.
The process
begin by cooking the black beans because it can take up to 2 hours for them to fully cook

once the beans seemed to be almost cooked, bring a pot of water to a boil to cook the sweet corn in. (if using canned beans, you can start at this step)
once the water is boiling, season it with salt and insert the corn for about 5-7 minutes.
While the corn is cooking, cut the onion, garlic, and cilantro into small pieces
once the corn is cooked and cooled, slice the corn off the cob.
then add together the beans, onion, garlic, cilantro, and corn into a large bowl.

Using a potatoes masher, fork, or your hands, combine all of the ingredients, and try to mash the beans down as much as possible while still leaving some whole

once the mixture is mashed, add any seasonings (I did salt, pepper, cumin, and cayenne) and fold in one large egg or egg replacement to the mixture.
then, add the panko bread crumbs or oat flour and stir so that the mixture holds together.

now your mixture is ready to be formed into patties! You can make them as big or small as you would like, just try to keep them the same size so that they cook evenly.
These burgers cook the best on a pan with non-stick cooking spray or oil, but they can also be placed on parchment paper on a sheet pan and cooked on the grill for a smokier flavor.

on the pan, place each burger on medium/high heat and cook on each side for 5-6 minutes
turn the grill to medium heat and cook the patty on each side for 3-4 minutes

Once the burgers are off the pan or grilled, place it on your bread of choice and add your enhancements of choice!

I added red onion, tomato, lettuce, and some of Chef Roy's smoked green chili goat cheese (check out his stand at the market every Saturday!)
these burgers were so good I forgot to take a picture before eating the whole thing. oops.

I decided to make multiple ears of corn and served the burgers with corn on the cob! Sweet corn is in season now and is a quick and easy way to add a nutritious side to any dish
Storing your homemade black bean burgers
This recipe can make quite a few burgers depending on the size you make them. For the size I went with (which was smaller than usual), it made about 10 patties. I cooked up six of them the night I made the mixture, and stored the rest of the mixture in the fridge.
if you decide to form and cook all the burgers on the day you make the mixture, these can be stored easy in an airtight bag in the freezer. Whenever you want to cook it, just toss it on a pan or the grill to reheat. Although this recipe takes some time to make, you can then have burgers for multiple meals after!
if you do not want to cook all the burgers that day or night, the remaining mixture can be kept in an airtight container or bag in the fridge for up to 5 days. You can easily form patties from this and follow the original cooking process.
I hope that this recipe has inspired you to get creative and make some flavorful veggie burgers for your next summer cookout! I would love to hear what different kinds of veggies, herbs, and enhancements you decide to add to make these burgers even more delicious! 
Posted in Agriculture, All Recipes, Chef, Community, Double Up Food Bucks, FMNP, Gardening, Health & Wellness, Local, Market Life, Recipe, Recipe Box, Summer, Sustainability, Taste of the Market, Uncategorized, Vegan, Vendor Feature, Vendors, What's In Season