Turkey Day, Your Way!
Turkey Day, your way! Savings and community galore at the Downtown Phoenix Farmer's Market: see you there!
Euphoric mornings, icy air, warm soups, and skies; there is no denying that Thanksgiving season ushers in Arizona's best face like a red carpet entrance. The strength of Arizona, and more broadly North America, and its bountiful resources essentially impacted the course of human history when it attracted many to these lands, and that impact lives on. What better way to commemorate the beauty of North American land than to intimately dive into the foods that are born from it?
Although delicious meals are traditions that are integral to the season, sometimes the holiday spirit can be muddied by strenuous long lines at the grocery store or competing over items during black friday. This year also brings a unique set of issues with inflation and holiday prices both increasing the cost of goods and services.
Recognizing that these challenges must coexist with gifts, cooking, and family time, this article is meant to lessen your stress by illuminating the convenience of the open-air Downtown Phoenix Farmer's Market, which offers competitive prices on groceries in the face of inflation. Let the tides shift this year and try something bold: make your thanksgiving dinner with fresh & locally-sourced ingredients!
Here are a few reasons to shop at the farmer's market for your holiday dinners:
According to our research, you would have to travel to various different grocery stores to "save money" on groceries compared to the Downtown Phoenix Farmer's Market. No single store outperforms the market enough on its own. When the cost of wasted gas is incorporated, food savings lower.
The market often offers harder-to-find groceries including but not limited to:

Armenian cucumbers
Okra
Collard greens
Butternut squash
Eggplant
Diverse mushrooms
Oxtail

Food at the store can be either organic or non-organic, whereas at the farmer's market you will almost always find organic options, if not at least completely local and fresh. This is in contrast to grocery store vegetables that travel far distances from other states.
Additional savings for SNAP/EBT recipients through the "Double Up Funds" program. For every $1.00 converted to "Market Bucks" at the information desk, the market matches $1.00 as well in "double up" tokens. This doubles the amount of money SNAP recipients can use at the market at no extra cost to them. More savings!
5. Utilize the Thanksgiving shopping guide below for specific price comparisons on produce: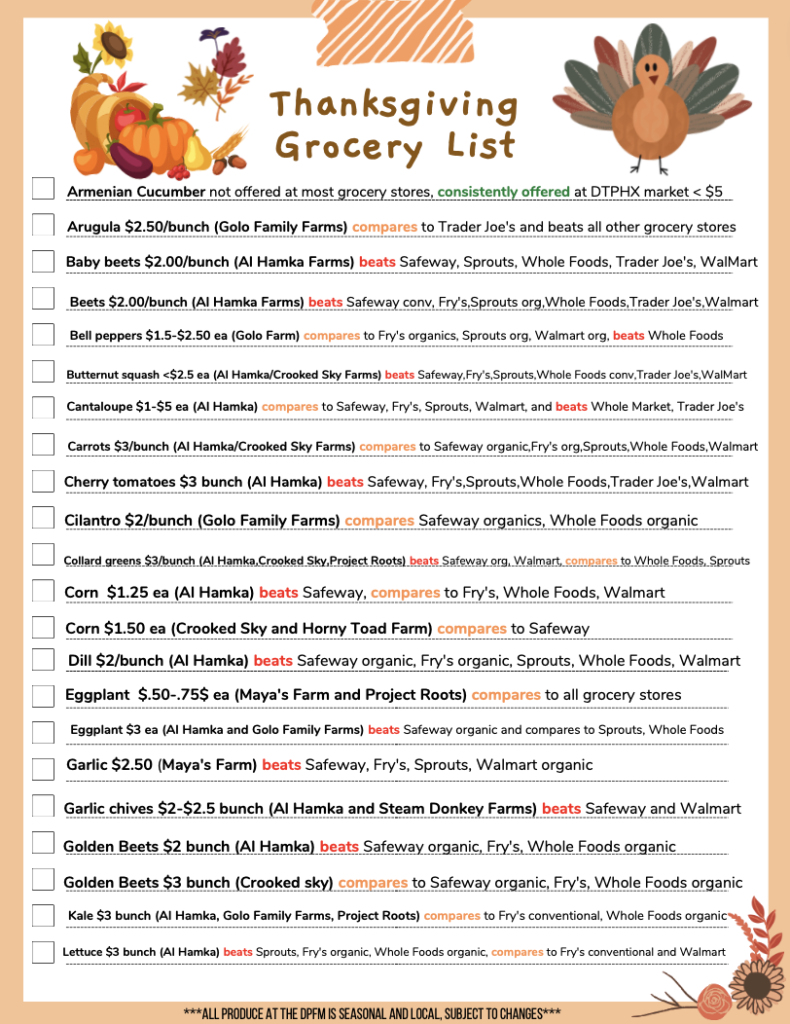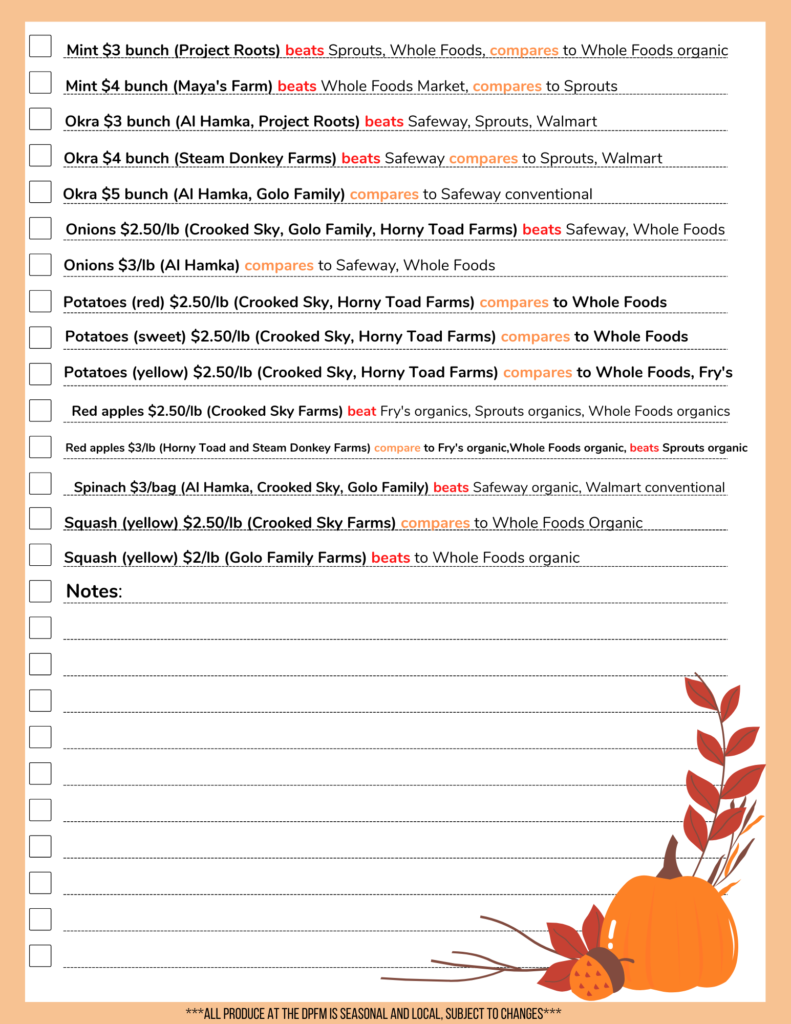 Thanksgiving is the ideal time to reflect on our food and the lands it grows out of.
Choosing to shop at the market is a bold and thoughtful way to honor these concepts. A simple decision can lead to broader, more positive outcomes, whether it be for the community, one's wallet, the body, or the mind. The Downtown Phoenix Farmer's Market is excited to join in that exploration. Happy Thanksgiving!
Author:
Paola Carrasco, DBA Pieza Solutions
Posted in Agriculture, All Recipes, Community, Double Up Food Bucks, Economics, Education, Fall, FMNP, Local, Sustainability, Taste of the Market, Vegan, What's In Season