Roasted Tomato Pesto Pasta (Vegan)
Looking for a delicious pesto pasta recipe with all of the flavor but none of the dairy?  Stop by the Downtown Phoenix Farmer's Market to find everything you need!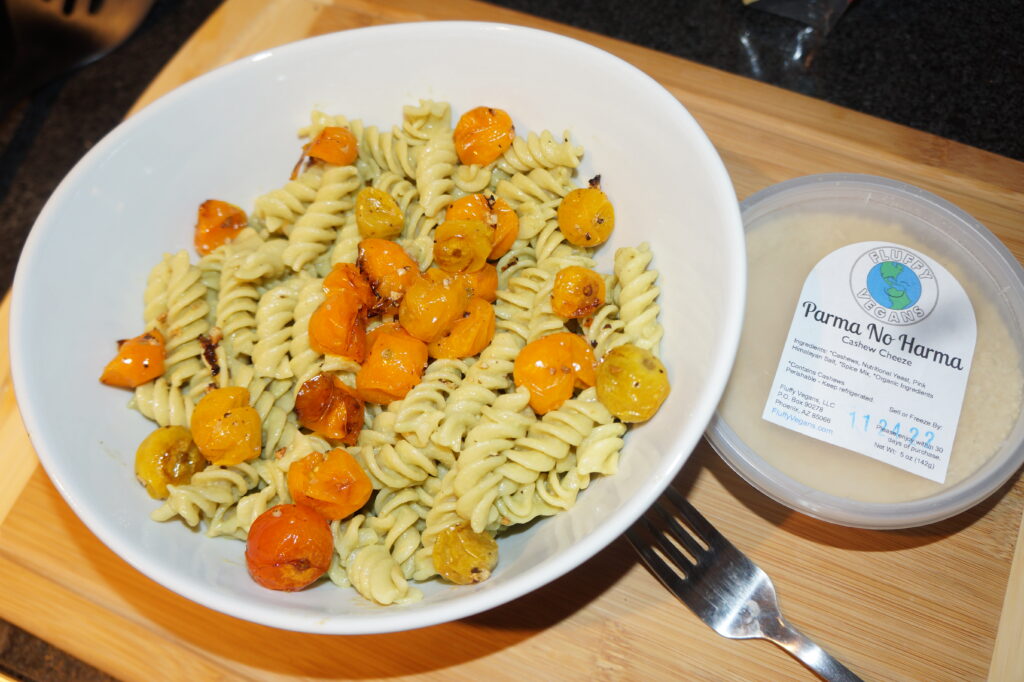 As an Italian, I grew up constantly having pesto as a part of my meals (pizzas, sandwiches, meat marinades, etc), but my favorite dish to have it with was always pasta. It was not until I started a vegetarian/vegan diet that I realized the amount of parmesan cheese that was in a pesto pasta dish. As someone who now tries to avoid animal products as much as possible, I was so excited when I saw that companies and restaurants were starting to sell vegan pesto.
I soon started doing research and experimenting with a few vegan pesto recipes so I could make the pesto even fresher and with more local and sustainable ingredients. After multiple attempts, I think that I have finally perfected it, and I now make this recipe at least every other week to keep in my fridge. This pesto is a quick, easy, and healthy way to add an explosion of flavor to any dish, but I have found it is the perfect addition to pasta.
Over the weekend I made a roasted tomato pesto pasta dish that was one of the best meals I have had in a while. I got a majority of my ingredient's right from local farmers and vendors at the market so I wanted to share my process with all of you and urge you to try it! We are in the peak of tomato season so I encourage you to grab some the next time you are at the market!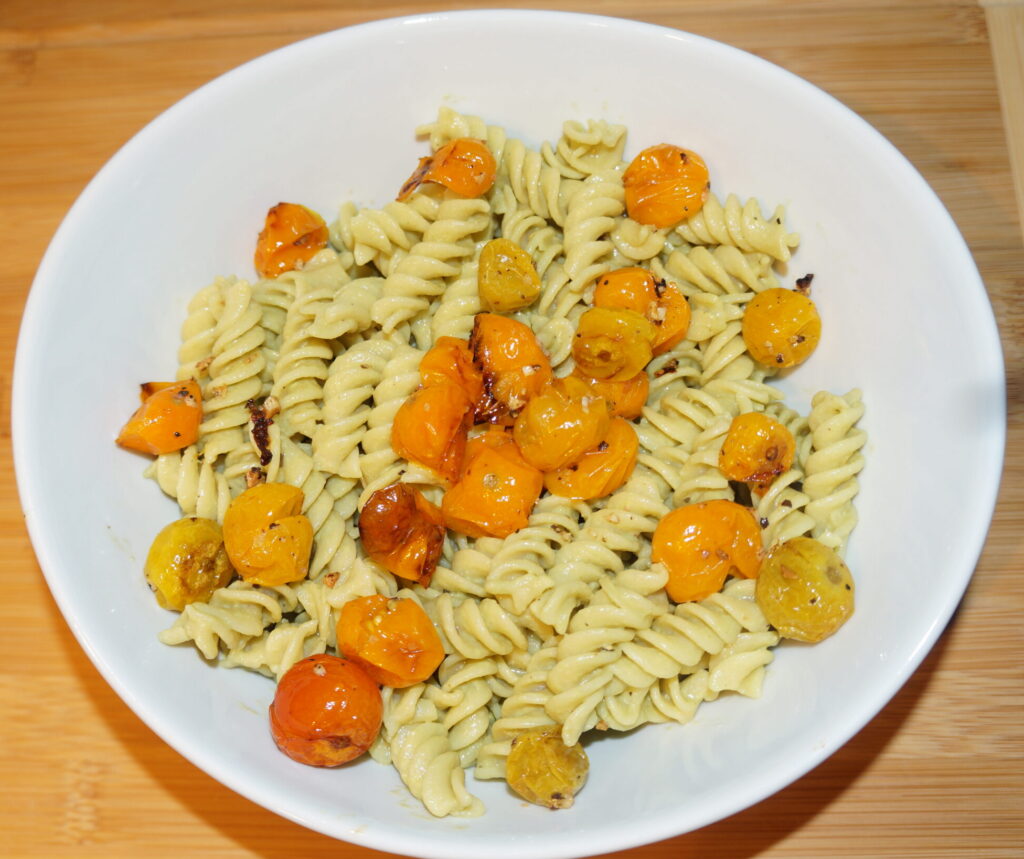 fresh ingredients from local farmers and vendors
Crooked Sky Farms:
I could not resist picking up these cherry tomatoes from Crooked Sky Farms this weekend. They were so ripe and tasted like candy; I almost didn't have any left by the time I roasted them because I kept eating them during the cooking process.
Phoenix Pasta Co:
Traditional pasta is typically made from eggs, which is obviously not vegan. Thanks to Phoenix Pasta Co. I was able to grab a bag of fusilli pasta that is made without eggs and is fully vegan! I really could not tell the difference between this and regular pasta: the texture and flavor were almost identical.
Fluffy Vegans:
If you have read my recipe post for the Vegan Pesto Recipe, you know all about the "Parma No Harma" vegan cheese alternative from Fluffy Vegans. I used this in the pesto itself and then decided to sprinkle some more on top of the pasta when it was all done. It added the perfect cheesy flavor to top off the dish!
full ingredient list
the amounts can scale based on how much pasta you want to make, this made me one big bowl of pasta, but you can always add a protein and split it up into two smaller servings of pasta! Size and any other enhancements are completely up to you.
1/2 bag of vegan fusilli pasta
pinch of salt
1 cup of cherry tomatoes
1 clove of garlic, minced
1 tsp olive oil (I used Hatun's rosemary infused olive oil)
pinch of black pepper
1 1/2 tbsp Vegan Pesto (can also use store bought)
1 tbsp Parma No Harma or nutritional yeast for serving
the process
start by preheating your oven to 350 degrees Fahrenheit for the roasted tomatoes.
rinse the tomatoes and combine in a medium sized bowl with the minced garlic, olive oil, salt, and pepper.
toss to combine

place the tomatoes on a baking sheet and bake for about 20-25 minutes, until the outsides of the tomatoes start to get roasted brown
while the tomatoes are roasting, bring a large pot of water to a boil for the pasta

Italian tip: always salt your pasta water

Once the water is boiling, add in the vegan pasta and stir

this pasta has a 8-12 minute cooking time

take out some of the pasta water before draining it to use later

you will only need about 1/4 a cup

drain the pasta and return it back to the pot

add the pesto and pasta water to the noodles and stir

add salt and pepper to taste and place in a serving bowl

add the roasted tomatoes onto the pasta and if you would like, add some Parma No Harma or nutritional yeast for a more cheesy taste
And there you have it, all of the flavor a fresh pesto dish with none of the animal products. Shoutout to all of the amazing local farmers and vendors for helping me bring this dish to life!
Posted in Agriculture, All Recipes, Chef, Community, Double Up Food Bucks, Downtown Phoenix, Gardening, Health & Wellness, Local, Loyal Local, Market Life, Recipe, Recipe Box, Summer, Sustainability, Taste of the Market, Uncategorized, Vegan, Vendor Feature, Vendors, What's In Season